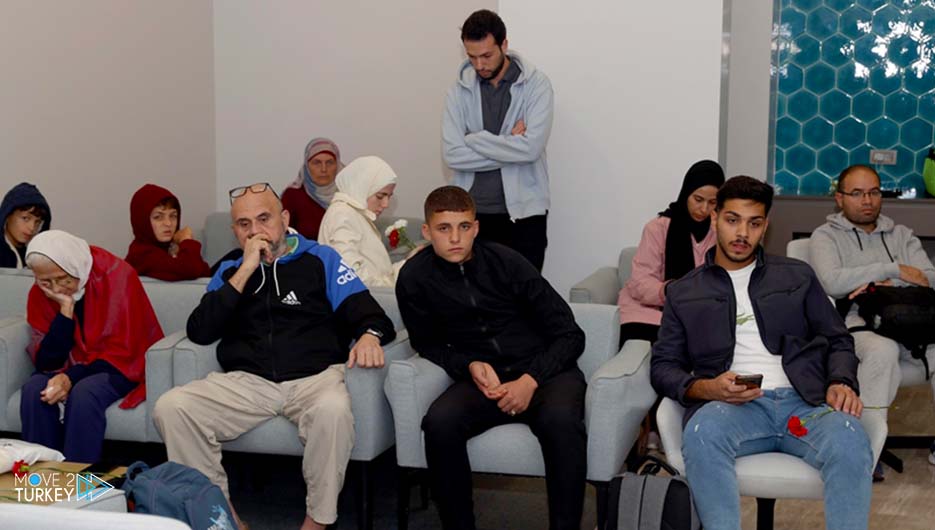 Forty-two Turks arrived home on Sunday, returning from the Gaza Strip after being evacuated through the Rafah border crossing with Egypt.
A Turkish Airlines plane arrived at Istanbul International Airport with 42 citizens on board after taking off this afternoon from the Egyptian capital, Cairo, after they were evacuated by the efforts of the Turkish Foreign Ministry from Gaza through the Rafah border crossing.
The citizens were received at the VIP gate by officials from the Turkish Foreign Ministry, led by the Foreign Ministry's representative in Istanbul, Ambassador Aisha Suzen Oslur.
In a statement she made, Ambassador Oslur expressed "deep condolences to the martyrs of Gaza, patience and solace to their families, and a speedy recovery to the wounded."
She said that the Turkish Foreign Ministry and the government are continuing their efforts without interruption to "end the brutality in Gaza."
She pointed out that 30 Turkish citizens were evacuated immediately after the outbreak of the crisis in Gaza following last October 7, which was followed by the closure of the Rafah crossing, hampering the evacuations.
She added: "But our diplomatic efforts did not stop despite the closure of the crossing, and today we received 42 citizens after their evacuation from Gaza."
"As is the case in all crisis areas, the Turkish Ministry of Foreign Affairs continues to evacuate citizens of all friendly and brotherly countries, especially their citizens, from crisis areas," according to Ambassador Oslur.
On Saturday, Turkish Foreign Ministry spokesman Oncu Kçali announced the start of the evacuation of Turkish citizens from the Gaza Strip to Egypt through the Rafah border gate.
Kacali mentioned in a statement that 44 Turkish citizens crossed from Gaza to Egypt, thus beginning the evacuation of the Turks.
Today, the 44th, the Israeli army is waging a devastating war on Gaza, leaving 12,300 Palestinians dead, including 5,000 children and 3,300 women, in addition to more than 30,000 injured, 75 percent of whom are children and women, amid calls to open an international investigation into the Israeli attacks and an immediate ceasefire. For humanitarian reasons.
While the Hamas movement killed 1,200 Israelis and wounded 5,431, according to official Israeli sources. It also captured about 239 Israelis, including high-ranking military personnel, and wants to exchange them with more than 7,000 Palestinian prisoners, including children and women, in Israeli prisons.