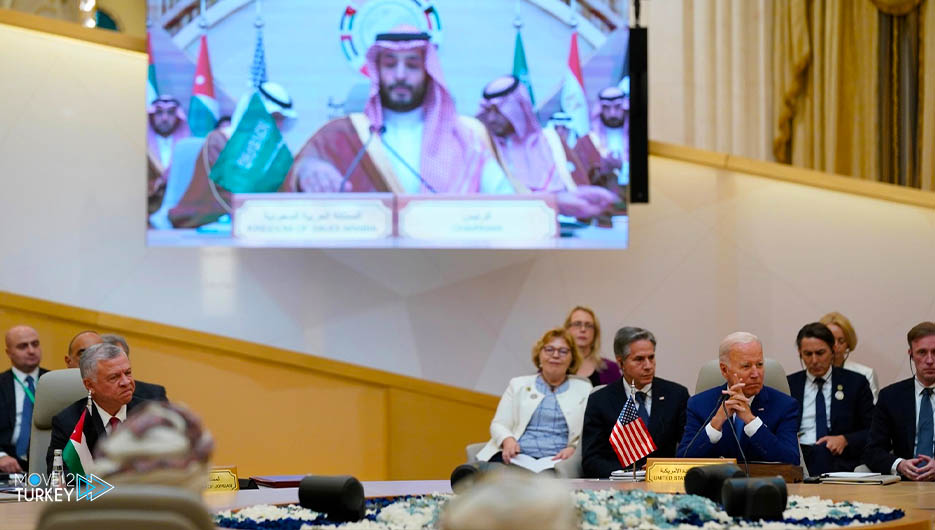 A Gulf-US statement on Saturday revealed its intention to provide $11 billion, including $10 billion in Arab support to face food security challenges in the world.
This came according to a joint statement of the Gulf Cooperation Council countries and the United States, which was reported by the Saudi Press Agency after the end of the Jeddah summit, in which US President Joe Biden and nine Arab leaders participated.
The statement stated that Washington "welcomed the decision of the Arab Coordination Group, which includes ten national, Arab and specialized development financing institutions, to provide an amount.
Not less than $10 billion in response to regional and international food security challenges.
He added, "The leaders welcomed the announcement by the United States of America to provide additional support worth one billion (billion) dollars to meet the urgent food security needs in the short and long term to the Middle East and North Africa."
And he added: "The leaders affirmed their support to ensure that the Gulf region is free of all weapons of mass destruction."
He stressed the "centrality of diplomatic efforts to prevent Iran from developing a nuclear weapon, and to confront terrorism and all activities destabilizing security and stability."
According to the statement, "the leaders discussed the development of integration and integration in the areas of air and missile defense, maritime security capabilities, early warning systems and information exchange."
The leaders also welcomed, "the establishment of (Joint Task Force 153) and (Joint Task Force 59).
which strengthen defense partnership and coordination between the countries of the Cooperation Council for the Arab States of the Gulf and the US Central Command.
This supports the monitoring of maritime threats and develops maritime defenses.
The statement continued, that President Biden "welcomed the announcement by a number of partners from the Gulf Cooperation Council countries, their plans to invest a total of 3 billion dollars.
and in projects consistent with the objectives of the Global Investment and Infrastructure Partnership Initiative announced by the United States.
Biden also expressed his "appreciation for the donation of one hundred million dollars by the Gulf Cooperation Council to support the East Jerusalem Hospital Network.
which provides essential and life-saving health care to Palestinians in the West Bank, Gaza and East Jerusalem.
The countries of the Gulf Cooperation Council welcomed, according to the statement, "the US President's affirmation that Washington stands ready to work collectively with the members of the Council."
This is to deter and confront all external threats to their security, and against any threats to vital waterways, especially Bab al-Mandab and the Strait of Hormuz.
The Gulf Cooperation Council includes Saudi Arabia, Qatar, the United Arab Emirates, Bahrain, Kuwait and the Sultanate of Oman.