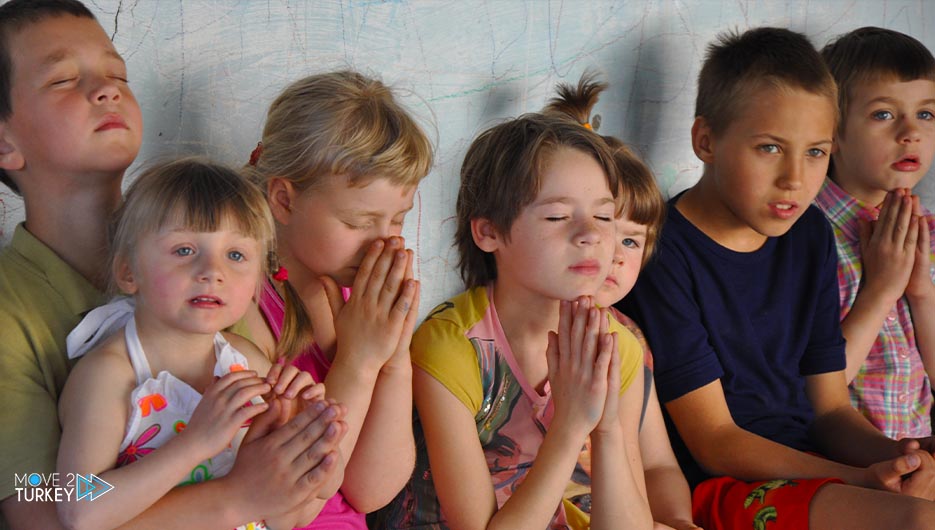 Ukrainian orphans who were taken in by Ankara after the Russian military attack lived the joy of celebrating with Turkish children on the occasion of the Children's Day and National Sovereignty, corresponding to April 23.
Ankara is supervising the care of about 1,000 Ukrainian orphans who have been transferred from orphanages in their country in the form of 8 groups.
This was followed by talks between the wife of Turkish President Emine Erdogan and her Ukrainian counterpart Olena Zelenska.
The Turkish authorities did not forget these orphans, and decided to involve them in the celebrations taking place in the country today, Saturday, on the occasion of the Children's Day and national sovereignty, as part of its efforts to mitigate the effects of the war on their psychological state.
The Directorate of Family Affairs and Social Services in Antalya, southern Turkey, decided to organize events for Ukrainian orphans inside hotels.
Which they settled in cooperation with the Yunus Emre Cultural Institute and the Turkish Red Crescent Society.
In statements, the Ukrainian consul in Antalya, Amir Rostamov, said that they felt great joy to organize entertainment activities for his country's children on such an important day in Turkey.
He praised Turkey's "original" position in taking care of orphans affected by the war in Ukraine, expressing his thanks to the relevant authorities in this regard.
In turn, Director of Family Affairs and Social Services Abdullah Galashkan said that the Turkish people have always embraced the oppressed throughout history, and today they host Ukrainian orphans.
For his part, the Vice President of Yunus Emre Institute Abdullah Kotalmesh Yalcin said that the orphans will participate today in recreational activities such as theatrical performances and competitions.
As for the head of the Turkish Red Crescent branch in Antalya, Esra Ozkog, she said that preparations have been made well to ensure the happiness of children on Children's Day and national sovereignty.
On February 24, Russia launched an attack on Ukraine, followed by international rejection and severe economic sanctions against Moscow.
Which requires the end of its operation for Kyiv to abandon plans to join military entities and adhere to neutrality, which the latter considers an "interference in its sovereignty."