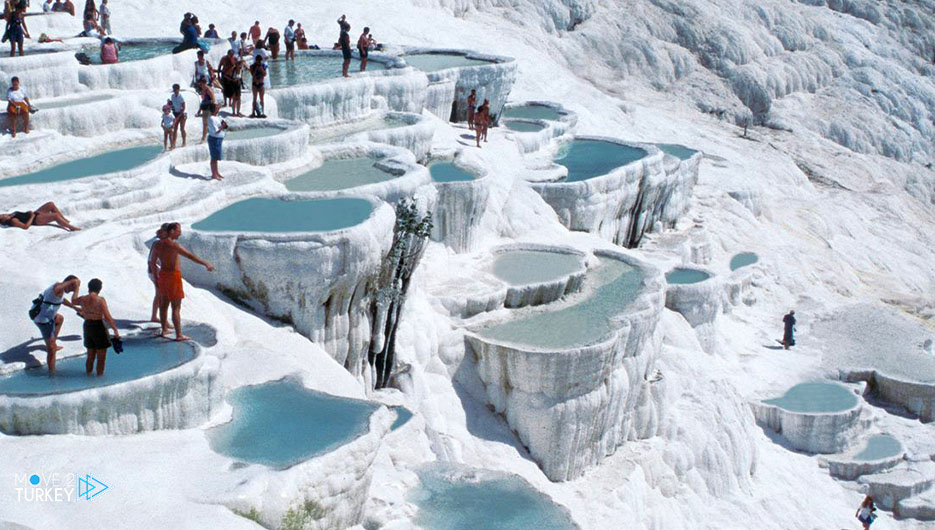 The Pamukkale region, the most famous tourist destination in the state of Denizli in western Turkey, continues to attract visitors from all over the world, with about one million visitors during the first 7 months of this year.
The area also known as "White Paradise" is famous for its white limestone rocks that resemble cotton, and from this comes the name of the area, the Cotton Castle.
And local and foreign tourists enjoy the beauty of its wonderful nature, watching its ancient cities, riding balloons, as well as its warm springs.
Since the advent of the current summer season, tourists have flocked to Pamukkale from all sides, despite the high temperatures that some resort to converting the evenings into a pleasant wandering time.
Evening times are a favorite moment for visitors to Pamukkale to watch the beauty of sunset from above the "White Gardens".
Gazi Murad Shan, head of the Denizli Tourist Hotel Operators Association, said, "Pamukkale has been witnessing a remarkable tourist turnout since the beginning of 2022."
He added, "The region, which received 470,000 visitors during the first 7 months of last year, reached 934,000 visitors in that period of this year from inside and outside Turkey."
He explained that "Pamouk Castle witnesses the peak of tourist demand during the summer seasons."
He stated that temperatures are usually high in the region from July to September of each year, to the extent that they sometimes reach 40 degrees Celsius, so tourists prefer to wander in the area during the evening.
Mourad Chan described the nightlife in Pamuk Qala as "distinctive and wonderful".
Ghazi Murad Shan explained that revitalizing night tourism in Pamukkale will double the number of tourists to the area.
He added, "If the ancient cities are illuminated and museums are allowed to visit at night, the number of visitors will increase significantly, because the high temperatures during daylight hours prevent visiting the open areas."
Murad Shan continued, "Most of the foreign tourists in the region are over the age of 60 and avoid going out during the day in the hot weather. Therefore, the possibility of wandering at night will be suitable for them."
The night tourism project in the region was launched in 2020, but it was later stopped due to disputes between tourism companies, while work is currently underway to resume it again due to the increase in the number of tourists.