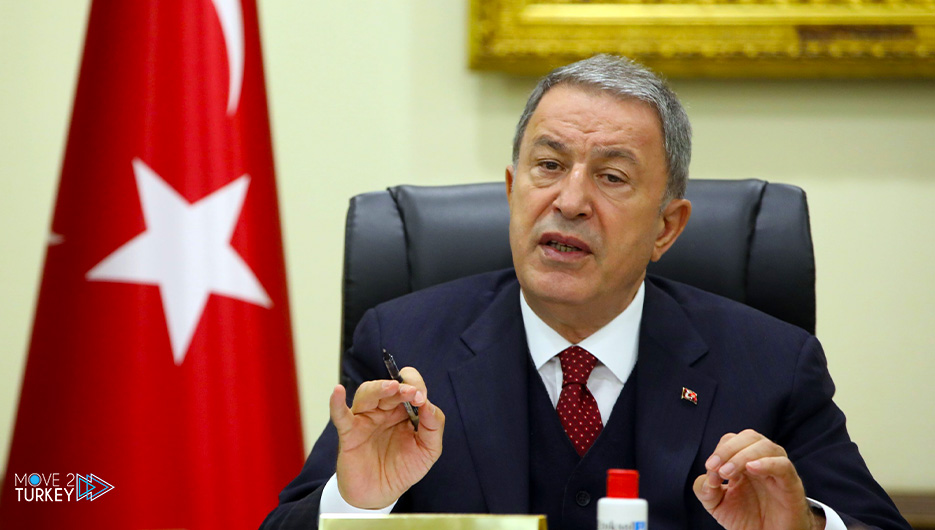 Turkish Defense Minister Hulusi Akar said Thursday that his country is determined and able to protect its rights and interests, along with its brothers in the Turkish Republic of Northern Cyprus.
Akar stressed that some politicians, especially in Greece, continue to increase their provocative actions and rhetoric in line with their personal ambitions, despite Turkey's call for dialogue.
In press statements, he stressed the need for everyone to know that Turkey is a strong, reliable and influential ally.
"We hope that the Aegean and the Mediterranean will be a friendship for peace and stability," he added.
He continued, "We are determined and determined to protect the rights and interests of Turkey and our brothers in Cyprus, and thankfully they are able to do so."
He pointed out the need for Greece to learn about history and not to take on new adventures that would lead to loss.
Regarding the possible Turkish military operation against terrorism in Syria, Akar said that terrorists have no place in the region and that his country cannot remain idle in this regard.
He pointed out the need for the United States and Russia to comply with the agreements concluded with Turkey regarding the expulsion of the separatist PKK terrorists from Syrian territory.
He revealed that there has been an increase in terrorist attacks during the recent period, especially from the Tal Abyad and Manbij regions in northern Syria.
Akar made it clear that Turkey will continue to respond without hesitation to these attacks from those regions that have turned into a nest of terrorism.
The YPG represents the Syrian arm of the PKK terrorist organization.
Turkey is carrying out operations to combat the "PKK", which targets its forces and citizens, and is active in several countries in the region, including Syria, Iraq and Iran.