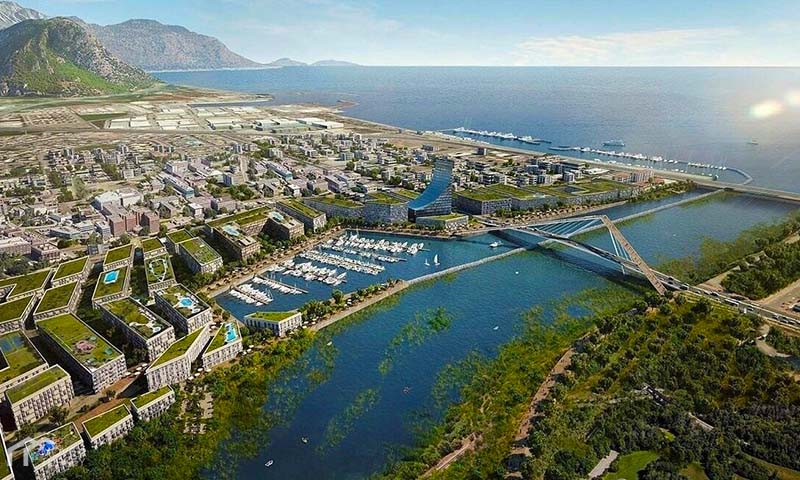 A Turkish Ministry of Transport spokesperson said that Turkey has launched the first tender for the construction of the new Istanbul water canal, referring to the progress of the project.
The tender includes the planning stage to rebuild two historic bridges located in the area to be occupied by the canal.
It is assumed that the canal connects the Black Sea north of Istanbul with the Sea of ​​Marmara in the south. Its cost is estimated at 75 billion Turkish liras, equivalent to 11.6 billion dollars. It is expected that the new waterway will reduce the heavy freight traffic in the Bosphorus Narrow and prevent accidents.
According to Anadolu Agency, on Thursday, five companies submitted bids to plan the reconstruction of the two bridges. Accepted tender bids ranged from 408-550 thousand TL, after the project was reactivated in December 2019 which was suspended after the currency crisis in 2018.
The new Istanbul water canal is one of the largest strategic mega projects in Turkey, and aims to eliminate the increased risks posed by ships across the Bosphorus.
The canal is 45 km long and will be built from the Küçükçekmece lake in Istanbul, and it is expected that 160 ships will cross it per day.
This massive project, announced by President Erdogan in 2011, aims to develop infrastructure by reducing pressure on the Bosphorus Strait, one of the busiest sea lanes in the world. The new canal will play an important role in preventing ship accidents, especially those associated with oil tankers.
As the new canal linking the Black Sea to the Sea of ​​Marmara, north and south of Istanbul, will become a safe alternative to the global shipping line.
The preparatory work for the project after the end of the tender will take about one and a half years. The construction is expected to take an additional five and a half years, indicating a plan for the completion of the entire project within seven years.