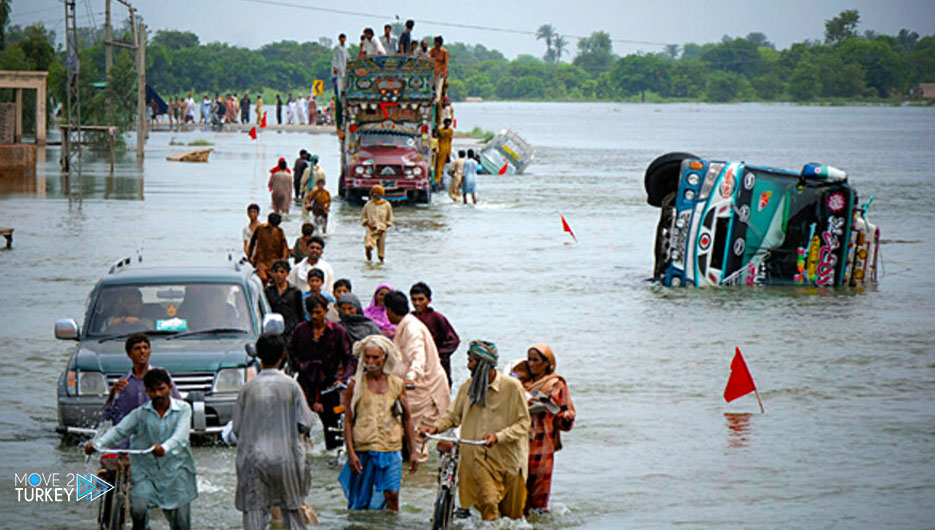 On Saturday, the Turkish Foreign Ministry offered its condolences to Pakistan over the flood disaster victims.
In a statement, the Ministry of Foreign Affairs expressed its deep sadness over the death of many people and heavy losses due to the continuous flood disasters in Pakistan, which have increased in severity in recent days.
The Ministry had compassion on the victims and offered its condolences to the people and government of friendly and brotherly Pakistan, wishing a speedy recovery for the injured.
She pointed out that Turkey has begun preparations to provide aid in order to heal the wounds of those affected by the floods.
She pointed out that a plane loaded with humanitarian aid is to be sent to Pakistan.
Pakistan declared a national emergency at dawn on Friday, after the death toll from floods and torrents rose to 937.
Since mid-June, 937 people have died, including 343 children and 198 women, while 1,343 others have been injured, according to a statement issued Friday by the National Disaster Management Authority.
In the same statement, the authority added that the floods also destroyed 670,328 homes, 122 shops, 145 bridges and damaged 3,082 km of roads.