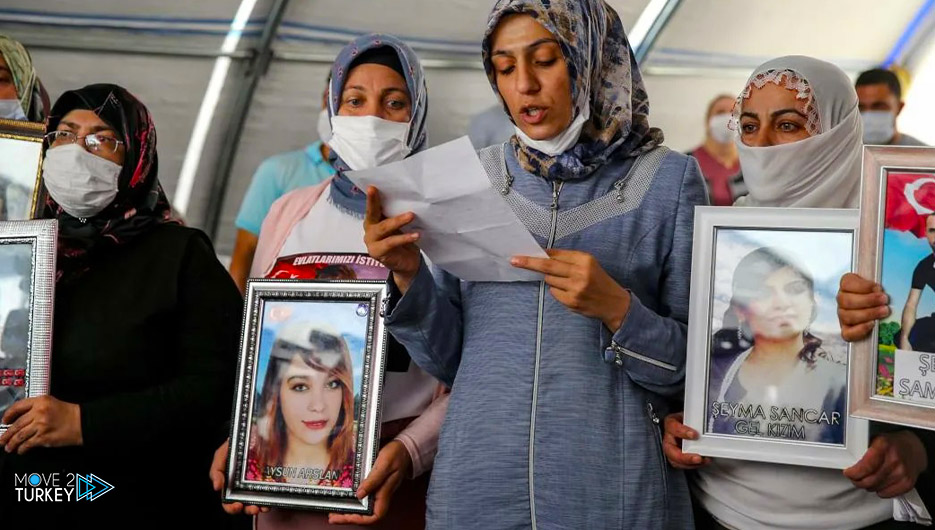 The sit-in launched by a group of mothers in front of the headquarters of the Peoples' Democratic Party in the southeastern province of Diyarbakir has been going on for 1136 days, demanding the return of their children kidnapped by the terrorist PKK organization.
The families of the sit-in are eagerly waiting for good news from their children at a time when the sit-in continues, while carrying pictures of their hearts on the International Day of the Girl, which falls on October 11 each year.
Turkan Mutlu explained that she is participating in the sit-in for her daughter Ceylan, who was taken to the mountains 9 years ago at the age of 17 from Istanbul, noting that every mother's dream is to see her daughter wearing a wedding dress.
She said, "Where are the human rights for girls in the mountain? (Referring to the PKK camps) Girls are being killed in the mountains and caves, and as a mother I want my daughter, who has been gone for 9 years."
She added, "Where are the daughters of the HDP parliamentarians? I dreamed of educating my daughter and making her a teacher and a benefit to the country. They took pens from the hands of the girls, gave them a weapon and sent them to death."
For his part, Necmettin Becher stated that they are participating in the sit-in in the hope of meeting his daughter Gulcan, indicating that they have not celebrated the International Day of the Girl in 7 years, and it is in the hands of the terrorist PKK organization.
He stressed that they will continue to sit until the return of their children.
Since September 3, 2019, families have continued their sit-in in front of the party headquarters, which they accuse of helping the terrorist organization kidnap children and young people to the mountains and deceive them to fight in its ranks against Turkey.
Turkish President Recep Tayyip Erdogan has previously expressed his support for the sit-in participants on more than one occasion, as well as support for ministers, politicians, artists, journalists, writers, athletes, civic organizations, clerics and individuals from all segments of society.
The PKK is a terrorist organization operating in several countries in the region, including Syria, Iraq and Iran, and Turkey is combating it in response to the attacks it is launching against its citizens and forces.