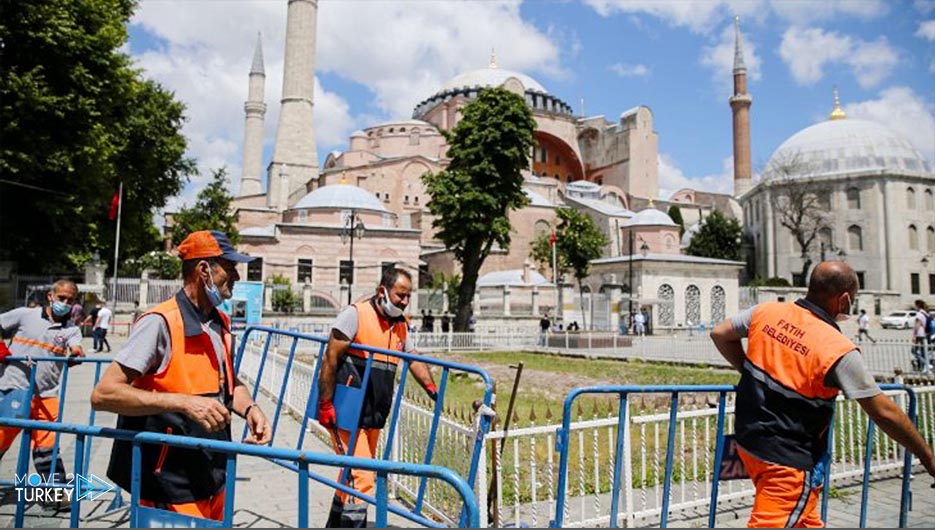 Turkish officials are studying road maps in an effort to gradually reopen Turkey if the number of virus cases drops to target levels.
And this is after a complete nationwide lockdown that has lasted 17 days, which will end on May 17th.
The authorities are also closely monitoring the impact of the lockdown that began on April 29 to determine what steps to take next.
According to plans for the gradual reopening of enrollment, schools will open first, while small businesses will resume.
Some of them, such as hair salons, attorney offices, and their operations are in the second phase of the reopening.
In the third phase, restaurants and cafes will open, but according to strict rules, including limited capacity and outdoor customer service.
Officials also said that if vaccination gains momentum and at the same time daily cases will drop to desired levels.
Turkey could move toward a gradual reopening, adding that the night curfew and weekend lockdown may remain in place.
According to officials, the goal is to raise the number of cases from 400 currently per 100,000 people to 100 after the Eid Al-Fitr holiday, which will take place between May 13 and May 15.
They added, "We need to reduce the number of daily cases to less than 10,000."
Professor Mehmet Cihan, an expert in infectious diseases at Hajjah Teb University in Ankara, also warned of the risks faced by people returning from resorts or towns to major cities after the closure.
"If all restrictions are lifted immediately, and people return to cities in an uncontrollable way, virus cases may rise in mid-June," Jihan said.
He also proposed a gradual reopening of six to eight weeks.
Ceyhan stressed that COVID-19 is now prevalent among young people and children, indicating that Turkey may not witness a fourth wave of outbreaks if about 70% to 75% of the population receives their vaccines.
"Turkey needs to make the necessary arrangements to vaccinate people under the age of 18, who make up 20 percent of the population," he added.
Vaccine delivery
Health Minister Fakhruddin Kuja reiterated on May 3 that the goal of the vaccination campaign was to vaccinate people over the age of 40 by the end of June.
"We also want to vaccinate our citizens over the age of 18 and our youth during the summer," the minister said.
Koca noted that Turkey has signed deals with different suppliers of COVID-19 vaccines.
"We are talking about 240 million vaccines in total, 100 million of them [Chinese] Simovac.
The minister said that with a number of positive developments in the coming days, we estimate that [vaccine] shipments could start again this month.
Apart from this, 50 million doses of Russia's Sputnik V vaccine will be delivered in more than six months.
There is also an agreement for a total of 90 million doses of the Pfizer / BioNTech syringe, according to Koca.
To date, Turkey has given more than 23.7 million doses of the COVID-19 vaccine.
More than 14.1 million people received the first dose, while nearly 9.6 million were given two doses of the vaccines.