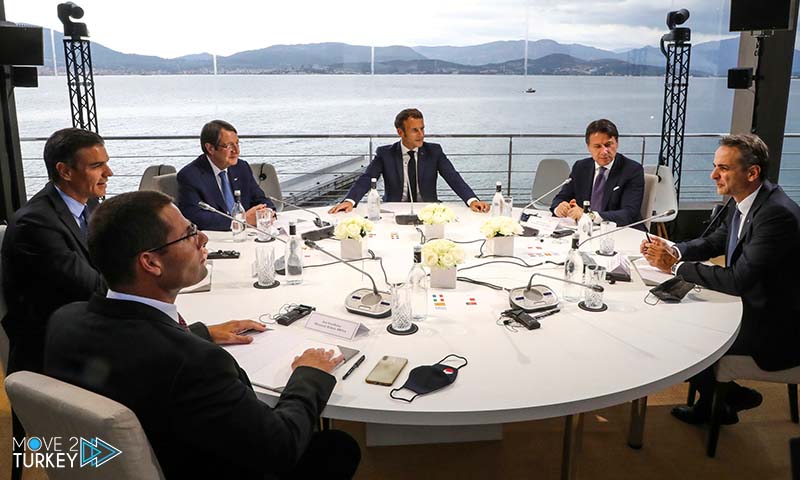 In a statement, the Turkish Foreign Ministry said that the statements on the Cyprus and Eastern Mediterranean issue in the joint declaration adopted at the end of the Euromed 7 meeting were biased, incorrect and lacking a legal basis.
The Turkish Foreign Ministry said in a written statement: "We call on Greece to give up its utmost claims to the maritime areas that violate international law."
It is imperative that Greece return its warships near the exploration ship "Oruç Reis", support the non-contentious NATO negotiations, and abandon the militarization of the eastern Aegean islands, including Kastelorizo, and the recent escalation against the Turkish minority.
Euromed is the seventh unofficial group of the Mediterranean countries in the European Union, and it held its first meeting in 2016.
The group includes France, Italy, Spain, Malta, Portugal, Greece and the Greek Cypriot government. It held its sixth meeting on Thursday in Porticcio, off the coast of the French island of Corsica.
The statement emphasized that Turkey has the longest coastline in the eastern Mediterranean and that it is a candidate country to join the European Union, adding that Greece and Turkey should sit at the same table without any preconditions for dialogue and cooperation.
The statement also added that the Greek Cypriots should work with the Turkish Republic of Northern Cyprus, which is participating in the residency on the island, to share revenues and exploit and explore hydrocarbon resources.
In an informal meeting hosted by French President Emmanuel Macron, Euromed 7 countries warned that the European Union was ready to impose sanctions on Turkey if it did not suspend its "unilateral activities" in the eastern Mediterranean.
Macron had earlier warned that Turkey would no longer be a partner in the region, citing Turkish naval allegations, including exploration for natural gas in Greek Cypriot waters and other provocations.