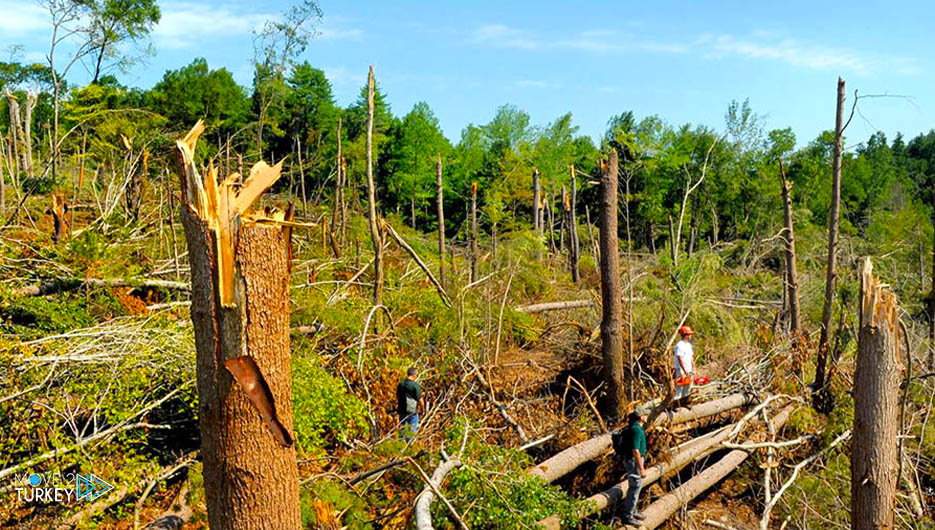 Director General of the Turkish Forestry Directorate Bekir Karjabay said that the reforestation of the forest areas that were burned in 2021 will end at the end of this year 2022.
This came in statements made by the Director-General about the works carried out in the areas affected by forest fires during the past year.
Karjabay stated that the Forestry Directorate began developing effective plans for reforestation as soon as the large fires in Turkish forests last year were brought under control.
And that the reforestation plans covered an area of ​​104 thousand hectares.
He explained that the Forestry Directorate had completed afforestation in an area with a total area of ​​49,000 hectares, while an area of ​​28,000 hectares was left without afforestation due to its stone and rocky structure.
He continued, "It is scheduled to plant 68 thousand hectares of the affected areas and renew 36 thousand hectares industrially.
This is by planting seedlings and seeds, and it is likely that afforestation and regeneration work in the forest areas affected by the fires will be completed by the end of this year."
He added, "According to Article 169 of the Constitution, reforestation of burned areas is a legal duty aimed at enriching natural areas and not using them for agriculture, animal husbandry or other purposes."
Karjabay pointed out that as of October 2021, 266 tons of red pine seeds have been allocated and collected in the directorate's warehouses for use in reforestation of burned areas.
He added that the seed stock is sufficient to produce red pine seedlings this year and to strengthen and enrich pine seedlings in burnt forest areas.
And he added, "There are 24 seed storage centers in Turkey with a capacity of 320 tons in 21 regional forestry directorates.
These stores are working continuously to meet the needs of the General Directorate of Forests for seeds."
He stated that the General Directorate of Forests works in these centers to store seeds for a period of 6 months to 10 years, and this is through programs to produce annual seedlings.
In order to contribute to the reforestation and repair of areas affected by fires and other unforeseen natural disasters.
He noted that the General Directorate had produced 274.9 million seedlings for forests until the end of last year, although the maximum production capacity of the seedling production program for 2021 was 260 million seedlings.
Karjabay stressed the importance of the seedling production program in meeting the needs of the Ministry of Agriculture and Forestry for seeds, which in turn would allow the production of red pine seedlings.
As well as black cypress, stone pine, pear, oleander, olive, hawthorn, mahlab, almond, walnut, fig, mulberry, and the gum tree.
He also explained that the General Directorate of Forests contributes to the production of seeds for types of trees and aromatic and medicinal plants such as lavender, sage, thyme, rosemary, mint and laurel.
Karjabay denied allegations that the Forestry Directorate had purchased seeds from outside the country, indicating that they were untrue.
The directorate's stock of seeds and seedlings is sufficient, and the process of seed multiplication is continuing.