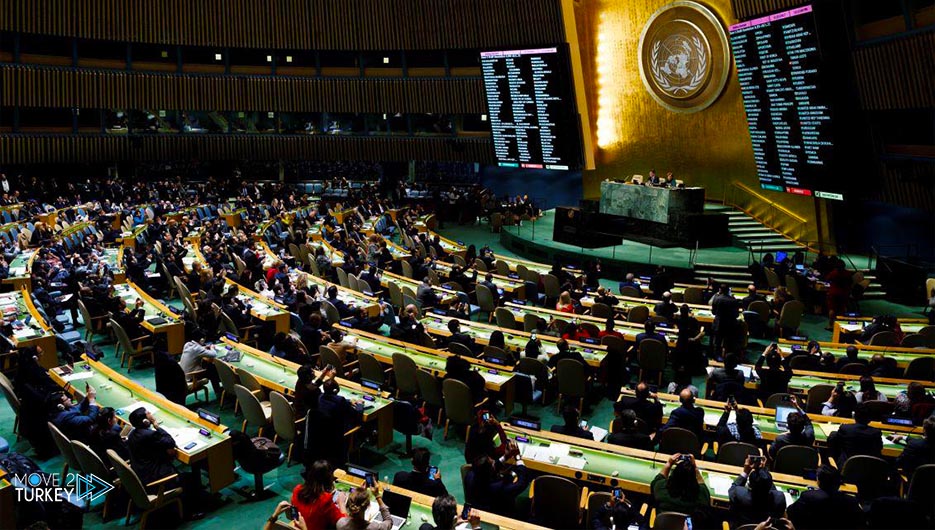 On Sunday, Palestine called on the international community to activate "binding mechanisms" to implement United Nations resolutions related to the Palestinian cause, the foremost of which is ending the Israeli occupation.
This came in a statement by the Palestinian Ministry of Foreign Affairs and Expatriates ahead of the 76th session of the United Nations General Assembly.
The statement said: "The ministry stresses, in light of the start of the United Nations General Assembly meetings, the demand of the international community to assume its legal and moral responsibilities towards the suffering of our people."
The annual high-level meetings of the 76th session of its General Assembly will kick off at United Nations Headquarters in New York on Tuesday.
In the presence of more than 110 heads of state and government of member states (193 countries).
The ministry called for "activating binding mechanisms to implement the provisions of the United Nations Charter and UN resolutions related to the Palestinian issue."
In order to compel Israel, as a racist occupying power, to end its occupation of Palestinian land, including East Jerusalem.
It also called for "not wasting time in dealing with some aspects of the occupation and its husks, or managing the conflict under the slogan of theoretical support for the two-state solution."
The Foreign Ministry statement reviewed the escalation in the attacks by settler militias and members of their terrorist organizations on Palestinian citizens, their land, homes, and properties during the last days.
It strongly condemned the "open war of occupation against the Palestinian national and humanitarian presence in all areas classified (C)", which constitute 60% of the West Bank and are under full Israeli control.
The ministry held "the Israeli government fully and directly responsible for the consequences and repercussions of its denial of the people's just and legitimate national rights, and its open war to liquidate the Palestinian cause."
And she warned, "the international community is against dealing with these violations and crimes as things that have become familiar because they are repeated every day and do not require a serious position to stop them."
On Sunday, Palestinian Foreign Minister Riyad al-Malki will arrive in New York, and from Monday he will hold a series of consultations and meetings.
This is in anticipation of the start of the general debate sessions in the 76th session of the United Nations General Assembly.
Riyad Mansour, the permanent representative of Palestine to the United Nations, said in an interview with the official "Voice of Palestine" radio on Saturday that Palestinian President Mahmoud Abbas will deliver a speech on Friday.
It deals with "practical issues to stop the Israeli violations against the Palestinian people and to compel Israel to stop these violations by the international community."