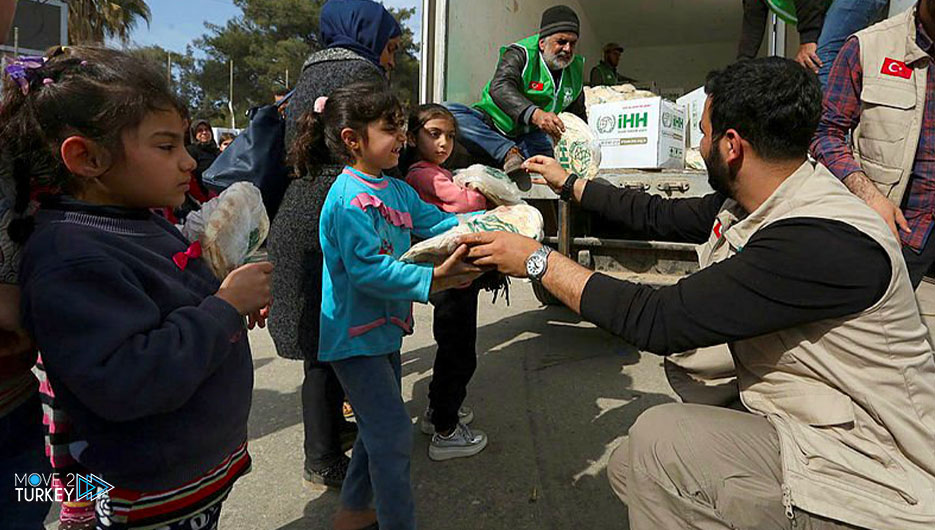 A ceremony was held in the Turkish state of Mersin to bid farewell to the third "charity ship" loaded with 960 tons of humanitarian aid to Lebanon.
On Friday, it was reported that a convoy of 58 trucks carrying 960 tons of food aid, primarily flour, arrived at the port of "Tachogo" in Mersin to load it onto the ship.
The preparation of aid campaigns is supervised by the Turkish Disaster and Emergency Management Authority (AFAD), based on the directives of President Recep Tayyip Erdogan.
The ship's farewell ceremony was attended by Deputy Interior Minister Ismail Chatagli, Mersin Wali Ali Ihsan Sou, and AFAD head Younes Sazar.
Chatakli indicated that this ship is the third for Lebanon within a month, and that the total aid amounted to 91 trucks.
Çataklı pointed out that the ship is not only loaded with aid, but also with the love of the Turkish people.
As for the governor of Mersin, he affirmed that the Turkish people will extend a helping hand to the needy wherever they are, without distinguishing between their religion, race and skin color.
In turn, the head of AFAD said: "This is our third ship, and it will be a way to convey the kindness and charity of our people to the needy there."
Previously, two batches of Turkish aid arrived in Lebanon on March 21 and 26.
For more than two years, Lebanon has been under the weight of a severe economic crisis, which the World Bank classified as one of the 3 most severe crises in the world.
It led to a financial and livelihood collapse and a scarcity of fuel, medicine, and other basic commodities.