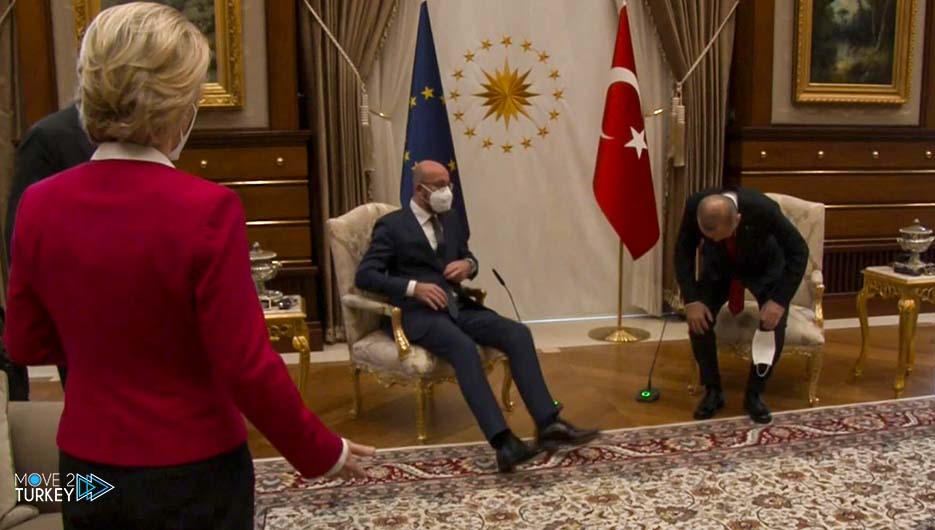 Erdogan's meeting with European Union leaders in Ankara had some margins that arose out of his diplomatic rituals.
Where these margins have now become one of Turkey's challenges with some members of the Union.
According to international news agencies, the leaders of the European Union, including President of the European Commission Ursula von der Leyen, and President of the European Council Charles Michel, met on Tuesday of this week with Turkish President Recep Tayyip Erdogan in Ankara.
Where the story began with only two seats next to the Turkish and European flags for Erdogan and the President of the European Council Charles Michel to sit on, and Ursula von der Leyen was forced to sit far from them on the sofa, which aroused her displeasure.
Diplomatically, the President of the Commission and the President of the Council of Europe are the highest officials in the European Union and at the level of leaders of other countries.
But von der Leyen had to sit at some distance from Erdogan and Michel. And that the Turkish foreign minister is on an equal footing.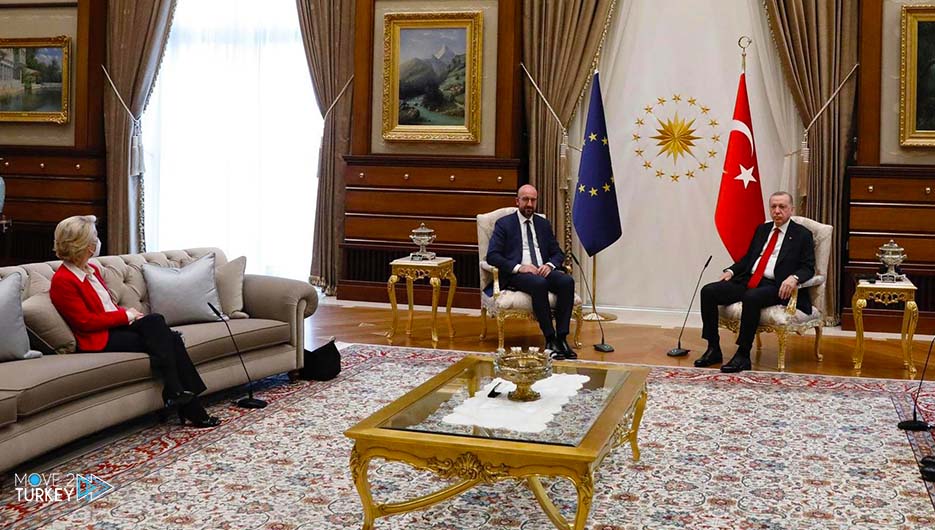 The suspicions about Funderline's intentional mistreatment reinforce the fact that Erdogan has always treated former European Commission President Jean-Claude Juncker differently and on the same level.
A spokesman for the European Commission also stressed that something similar to what happened in the Turkish presidential palace on Tuesday must not be repeated, and that specific measures will be taken to prevent it from happening again.
He added that despite this inappropriate behavior, Ursula von der Leyen took the opportunity to meet Erdogan and openly shared her views on women's rights and Turkey's withdrawal from the Convention on the Elimination of Violence against Women and Children (Istanbul Convention).
However, Turkey stated that the European Union ceremonial team was present before the meeting, but they did not mention that, and in fact this is the fault of the European team.
However, this is not over, and Italian Prime Minister Mario Draghi said yesterday in an interview about the Turkish president:
"I absolutely do not accept the behavior of Turkish President Erdogan. I think it was inappropriate behavior. I am deeply saddened by the humiliation of the President of the European Commission, Ursula von der Leyen.
We have to call them by their names, we need to work with these tyrants."
These statements also angered Turkish officials, and the Turkish Foreign Ministry immediately summoned the Italian ambassador in Ankara and asked him to immediately withdraw his extraordinary statements against the president.
And Turkish Foreign Minister Mevlut Cavusoglu also tweeted:
"I strongly condemn the unacceptable populist rhetoric of the Italian Prime Minister-designate Draghi and his ugly and unfamiliar statements about our elected president."