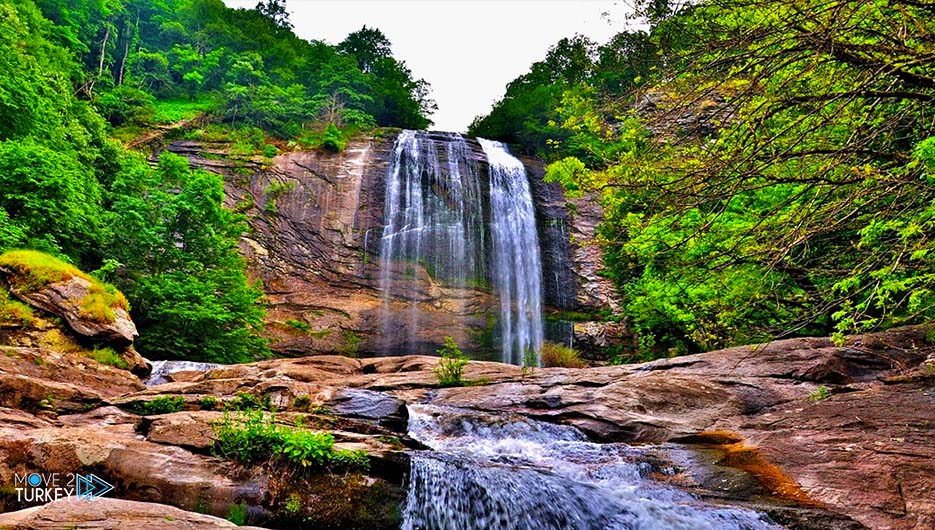 Suuctu Waterfalls in Mustafa Kemal Pasha district in the Turkish state of Bursa (west) attract many tourists, especially in the fall, with its green and yellow colors.
The waterfalls are 22 kilometers from the center of the district, and 125 kilometers from the center of Bursa, and make their way through the granite rocks.
Flowing from a height of 38 meters adds extra beauty to the surrounding area in the Suuctu National Park.
The area has received a large number of tourists, both wishing to enjoy the refreshing weather during the summer.
Or enjoy the beauty of the landscape and the cheerful colors that paint a magical canvas in the fall season.
The width of the waterfalls and the amount of water falling from them increases with the rainfall in the winter season, and it provides the needs of Mustafa Kemal Pasha with drinking water.
Suuctu National Park, where the waterfalls are located, receives about two thousand cars per day in the summer and about 500 cars in the autumn.
It is a preferred place for large companies to shoot their commercial advertisements, which provides material income for the region.
In his statements, Muhammed Kanar, mayor of Mustafa Kemal Pasha district, said that the Suuctu waterfalls are among the district's most important wealth.
"The waterfalls are very popular with tourists, especially Arabs, in addition to local visitors," Kanar added.
He pointed out that the high demand prompted them to establish a large tourist facility with an investment of 10 million Turkish liras, in cooperation between the municipality of Bursa state and the municipality of Mustafa Kemal Pasha district.
He pointed out that the tourist facility they established to serve tourists has further increased the value of the area.
Kanar explained that the Suuctu National Park receives 1,000 and sometimes 2,000 cars carrying visitors daily in the summer.
And that the region is one of the important destinations that citizens prefer to go to "escape" from the heat in this season.
Kanar pointed out that the interest in visiting the area continues in the autumn, as the park receives about 500 visitors per day.
Those who wish to enjoy the beauty of nature and scenic views, especially on holidays and national holidays.
Mustafa Kemal Pasha, the mayor of the district, pointed out that the waterfalls contribute to introducing the district and Bursa state in general, and contribute significantly to the region's economy.
Bursa is one of the most attractive states in Turkey for tourists, especially Arabs, with its ancient historical places and natural tourist areas.
The state is also the most important winter tourism center in the country, as tourists from different countries of the world come to practice ice skating at the Uludag Ski Center.