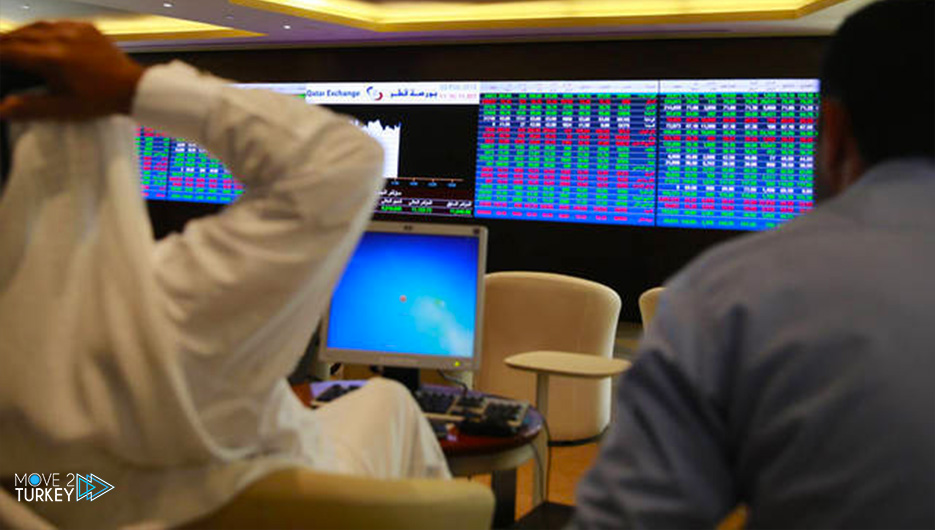 Six Gulf stock exchanges fell during Sunday's trading, the first session of the week, and Saudi Arabia was the most declining, while Oman recorded the only rise.
The decline of the Gulf stock exchanges came under pressure from the decline in the US stock indices in the last sessions of last week, in light of the high levels of inflation.
The Saudi Stock Exchange, the largest market in the Arab world, fell, with its main index "TASI" down 0.66% to 11,342.85 points, a decline for the second consecutive session.
The decline in the Saudi market came amid a decline in major sectors led by the food retail sector by 1.63 percent, as well as communications by 1.36 percent, and banks by one percent.
The Dubai Stock Exchange fell by 0.36 percent to 2897.01 points, under pressure, the Dubai Islamic Bank shares decreased by 0.78 percent, and Emaar Properties 2.22 percent.
The Stock Exchange of the UAE capital Abu Dhabi fell 0.52 percent to 7819.66 points, and the decline in the index came under pressure from the decline in "Etisalat" shares by 1.4 percent.
The Kuwait Stock Exchange fell after its first market index fell by 0.10 percent to 7,435.07 points, while the general market index fell by 0.07 percent to 6805.2 points.
The Qatar Stock Exchange index fell by 0.20 percent to 11078 points, and the "General Insurance" shares led the declines by 5.23 percent, then "Qatar First" by 1.82 percent.
The Bahrain Stock Exchange fell by 0.20 percent to 1666.45 points, and the declines were led by "Nas" shares by 6.98 percent, and "Al Ahli United" by 0.67%.
On the other hand, the Muscat Stock Exchange recorded the only increase by 0.1 percent to 3,963.96 points.
The shares of "Galfar Engineering" rose the most by 5.13 percent, then "National Bank of Oman" by 2.65 percent.