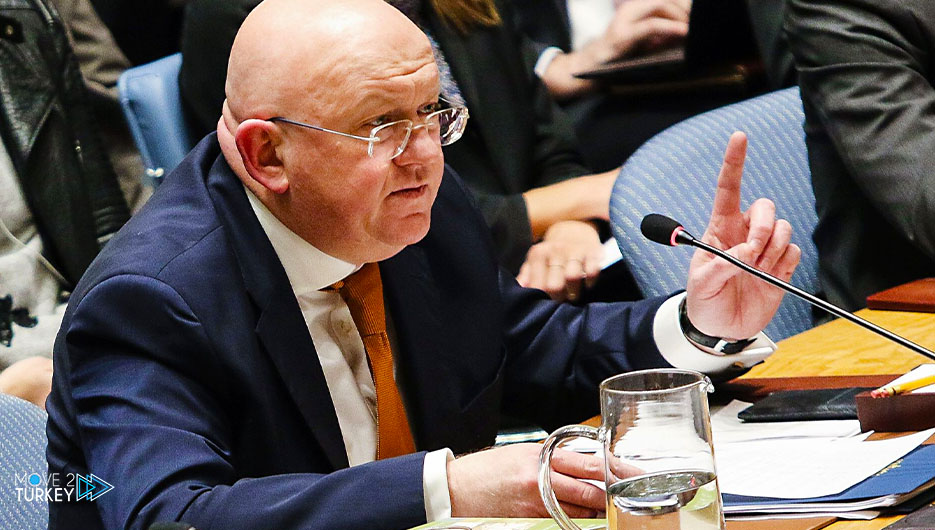 Russian Ambassador to the United Nations Vassily Nebenzia on Tuesday addressed Ukrainian President Volodymyr Zelensky, telling him that Western countries "are ready to fight in your country until the last Ukrainian."
This came in a session of the UN Security Council currently being held at the United Nations Headquarters in New York on Ukraine and discussing the "increasing evidence of war crimes in the Ukrainian city of Bucha."
The Ukrainian President, in addition to the Secretary-General of the United Nations, Antonio Guterres, participated in the session via a televised circuit from Geneva.
His Political Affairs Undersecretary, Rosemary DiCarlo, and Relief Coordinator Martin Griffiths, as well as representatives of the 15 member states of the Council.
In his speech during the session, the Russian delegate said: "I would like to address the Ukrainian president and tell him:
Russia came to Ukraine not to invade it, but to protect the population of (eastern) Donbas and eradicate the Nazi cancer in your country."
Since February 24, Russia has launched a military attack on Ukraine, which has left a humanitarian crisis and prompted countries, led by the United States of America, to impose sanctions on Moscow.
"We don't shoot at civilians, we try to rescue them, and that's why our soldiers aren't making the progress we expect," Nebenzia added.
He continued, "We do not act like the Americans in Syria and Iraq who destroyed entire cities, but we fear for the lives of Ukrainians."
And he added: "The West is ready to fight in your country to the last Ukrainian, so take the right decisions now before it's too late."
And on Sunday, Ukrainian Prosecutor General Irina Vinestova announced that 410 bodies of civilians had been found in the city of Bucha (near the capital, Kyiv), after the Ukrainian army had recently regained control of it.
Nebizia denied Russia's responsibility for these deaths, saying: "The mere thought that the Russian army is capable of doing these things in Bucha is unacceptable."
He stressed that "these bodies were not there after the withdrawal of the Russian forces."
Addressing the Ukrainian president, he added, "You were elected president in 2019 and at that time you pledged to bring peace to Donbas and protect Russian-speaking people, but all that has disappeared now."
"You treat the residents of Lugansk and Donbas (two separatist regions of Donbas) as less than human," he continued.
The Russian ambassador continued to address Zelensky: "It is the Nazis who are at the helm in Ukraine now… and you have distributed weapons to them."
On Tuesday, the Ukrainian president appealed to the Security Council to urgently adopt comprehensive internal reforms in light of its inability to bring peace to Ukraine.
In a speech before the Council, he asked: "Where is the security that the Security Council must guarantee?! It does not exist despite the existence of a Security Council, so where is the peace, then (?!)".
He continued, "Are you ready to shut down the United Nations? Do you think the time of international law is over? If your answer is no, you need to act immediately."