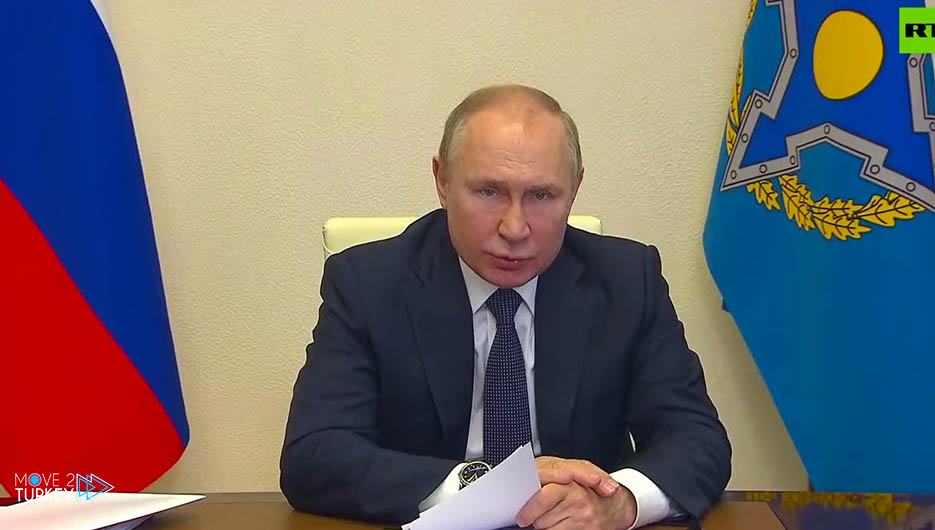 Russian President Vladimir Putin said on Monday that the attack on Kazakhstan was an "act of aggression and it was necessary to respond to it without delay."
This came during his participation in an extraordinary virtual session of the Collective Security Treaty Organization led by Moscow.
He added that some external and internal forces "exploited the economic situation in Kazakhstan to achieve their goals."
He pointed out that the Collective Security Treaty Organization "was able to take important measures to prevent the deterioration of the situation in Kazakhstan."
In this context, Putin pointed out that what he called "global terrorism targeted Kazakhstan."
He continued, "Recent events in Kazakhstan confirm that some forces do not hesitate to use cyberspace.
As well as social networks in the recruitment of extremists and terrorists and the formation of sleeper cells of militants.
He stressed that his country and the countries of the Collective Security Treaty Organization will not allow "revolutions" to erupt in the region.
He added that the Russian military forces will withdraw from the country after the end of their mission.
Earlier in the day, Kazakhstan's President Kassym-Jomart Tokayev denounced what he called an "attempted coup in the country" that led to a week of violence.
The protests and violence that erupted last week resulted in dozens of deaths and huge material damage.
On Monday, the Kazakh government announced that nearly 8,000 people had been arrested in the wake of the unrest.
The government reported that life began to return to normal in the country, following the control of the protests.
It also liberated the buildings that had been seized by protesters, as part of the "currently ongoing anti-terror operation in order to maintain security and order in the country."
It is noteworthy that after the outbreak of protests, the President of Kazakhstan called on Moscow, as it leads the Collective Security Treaty Organization, to send forces to help secure and protect his country.
Russia has already deployed forces in this Central Asian country as part of a multinational force from the former Soviet republics.
Kazakhstan considered the violence in Almaty, the country's largest city, an attack by "terrorist groups".
It expressed her dissatisfaction with the foreign media's coverage of the events, which began with demonstrations against the hike in fuel prices in the west of the country on January 2nd.
These disturbances are the worst since Kazakhstan's independence following the collapse of the Soviet Union 30 years ago.