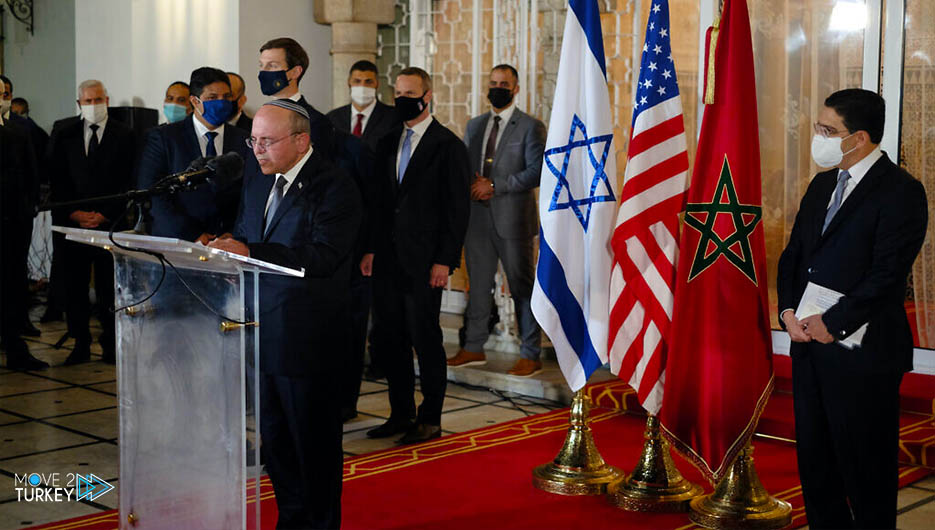 On Sunday evening, Morocco and Israel signed an agreement to start promoting Morocco's tourist destination and joint marketing by both parties to boost incoming tourism.
This came in a statement by the Moroccan National Tourism Office on the occasion of the launch of civilian flights between Morocco and Israel.
Hours later, two tourist planes from Israel landed in Marrakesh (southwest).
According to the statement, the agreement aims to promote tourism and travel offices in Israel and Morocco for tourist facilities in the African country to stimulate trips to its most prominent facilities.
And on Sunday, a plane belonging to the Israeli company "El Al" landed with tourists and officials of tourist offices on board.
And dozens of journalists and influencers, in response to an invitation addressed to them by the Moroccan National Tourist Office.
According to the office, the tourists and officials of the Israeli tourism offices will stay until July 29, during which the Moroccan National Tourism Office will organize a series of meetings to strengthen joint relations.
El Al plans to offer three weekly flights between Tel Aviv and Marrakech on Boeing 737-900ER aircraft, which can accommodate 16 passengers in business class and 159 passengers in economy class.
And starting next August 10, the company will also organize three weekly flights to Casablanca Mohammed V Airport.
The National Office expects the number of Israeli tourists to Morocco to rise to 200,000 annually, from an average of 50,000 previously.
On December 10, 2020, Israel and Morocco announced the resumption of diplomatic relations between the two countries, which were suspended in 2000.
However, the Moroccan tourism movement towards Israel has not stopped, according to the Israeli Ministry of Tourism data during the past years, as a percentage of Moroccan Jews live in Israel.
Morocco and Israel agreed at the end of last year to "continue cooperation in several fields.
The reopening of the liaison offices in Rabat and Tel Aviv, the immediate resumption of official contacts, and the establishment of full diplomatic relations.
Morocco is the fourth Arab country to agree to normalization with Israel during 2020 after the UAE, Bahrain, and Sudan, while Egypt and Jordan have had two peace agreements with Israel since 1979 and 1994, respectively.