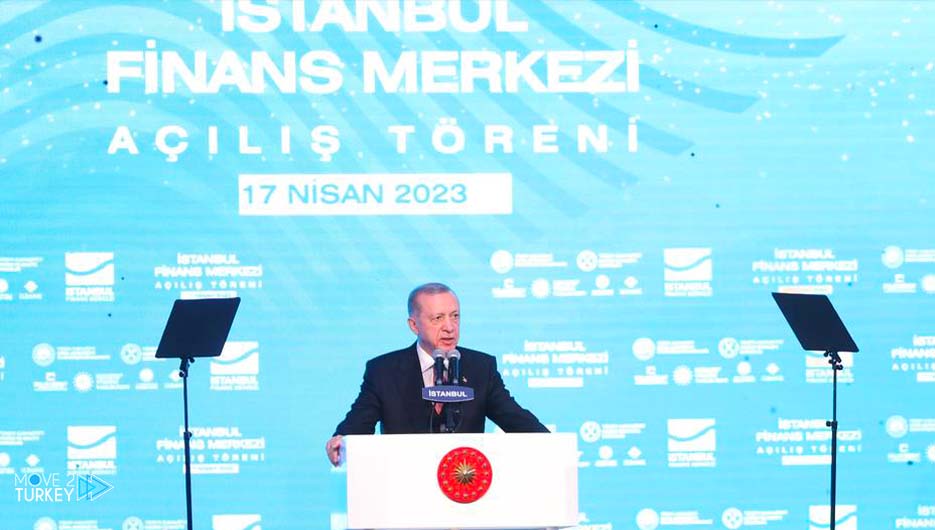 Turkish President Recep Tayyip Erdogan confirmed that Istanbul will be a financial center for Turkey, as it played this role throughout history.
This came in a speech he delivered on Monday during his participation in the opening ceremony of the "Istanbul Financial Center" in the Asian side of the city.
Erdogan made it clear that Istanbul's financial center will support Turkey's economy as local and foreign institutions begin their activity.
He added that the center will form a new integrated system in Istanbul, which is the meeting place of three continents.
And he added, "The Istanbul Financial Center is a strategic project with a vision and its true value will be evident in the coming years."
Erdogan expressed his happiness with the inauguration of the first phase of the Istanbul Financial Center, indicating that this center will raise Turkey to a higher level in the field of finance.
Erdogan explained that the center of gravity of global finance is declining more and more from the West towards the East, pointing in this context to Turkey's geographical importance, which is a corridor between the European and Asian continents.
And he added, "I believe that Istanbul, which throughout history served as a geographical and commercial bridge between East and West, has the ability to establish the same link between the financial markets today."
Erdogan indicated that the Istanbul financial center will make serious contributions to the country's economy on a large scale with the start of local and foreign financial institutions operating in the region.
He pointed out that the Istanbul Financial Center is a visionary project developed to enhance Turkey's position in the global economy and make the country a regional financial center and in the future a global financial center.
He stated that the total cost of establishing the center amounted to 65 billion Turkish liras (one dollar equals 19.35 Turkish liras).
He continued, "This center has become a model project with its environmentally friendly features and conforming to the specifications of the Zero Waste Project."
"The Istanbul financial center will also increase the potential for attracting investments by facilitating the flow of international capital into Turkey," he added.