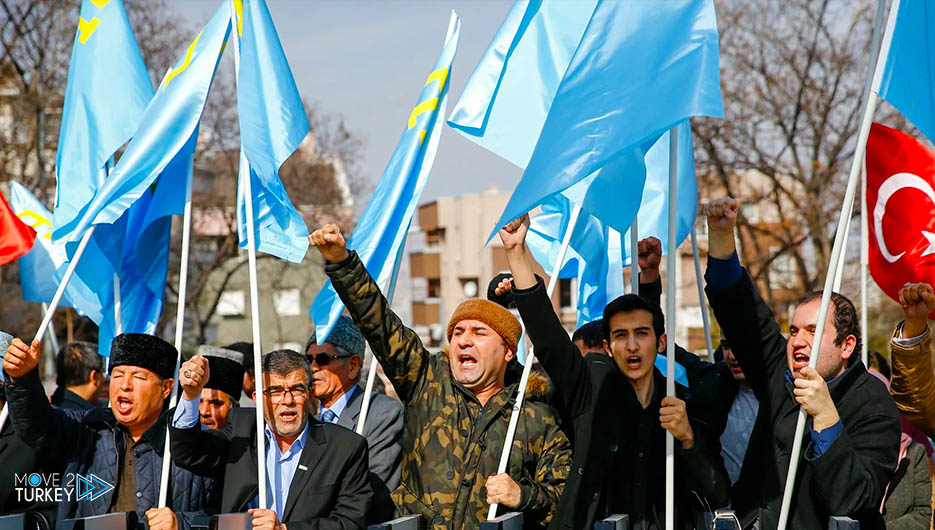 The city of Istanbul, northwest of Turkey, witnessed a protest demonstration organized by the Crimean Tatars on the occasion of the 78th anniversary of their displacement to Central Asia via trains in inhumane conditions, by a decision of the leader of the Soviet Union at the time, Joseph Stalin.
The demonstrators gathered in the Taksim area in central Istanbul, waving Turkish and Ukrainian flags and banners and pictures related to displacement.
In a speech during the protest demonstration, Roman Nedelsky, the Ukrainian Consul General in Istanbul, referred to the persecutions experienced by the Crimean Tatars for ages.
He affirmed their solidarity and support for the Crimean Tatars in the face of Russian practices.
He stressed the need for international recognition of the displacement of the Crimean Tatars at the hands of Russia.
The Tatars, the original inhabitants of Crimea, were subjected to forced displacement as of May 18, 1944 towards central Russia, Siberia and the Turkic-speaking countries of Central Asia that were under Soviet rule.
Also, their homes and lands were confiscated during the Stalin era for "treason" in 1944 to be distributed among the Russian workers who were brought and settled on the peninsula with an important strategic location north of the Black Sea.
According to Crimean Tatar sources, 250,000 Tatars were displaced within 3 days by trains used to transport animals, and 46.2 percent of them died as a result of disease, hunger, living conditions and poor treatment.