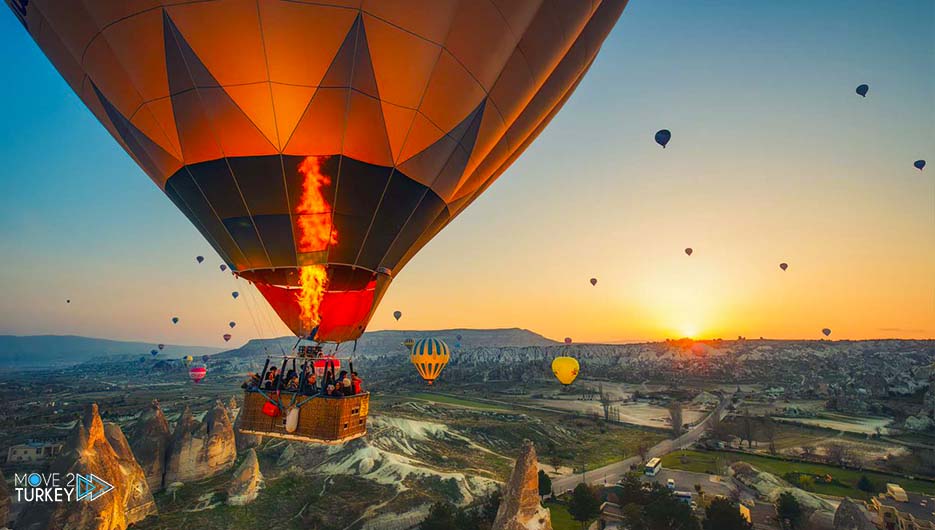 Turkey! Once you hear this name, you want to pack your bags immediately!
The historic land of the Ottomans, shimmering beaches of the Mediterranean, colorful neighborhoods, delicious baklava and coffee, and Cappadocia, the city of adventure and discovery.
Cappadocia in Turkey is a tourist region that offers many attractions to tourists.
This city is located in the center of Turkey, if you plan to travel to Cappadocia in Turkey with limited budget, you can continue reading this article until the end.
When you view the photos and learn about the unique attractions in Cappadocia, you will easily put this destination on your travel list.
In this region, not only do you enjoy staying among the locals in Turkey and get to know them more closely, you can also practice sports activities between the mountains and cliffs of Cappadocia.
Also if you are interested in history, this place has interesting historical places, join us to share with you tips for traveling to Cappadocia Turkey.
Cheap trip to Cappadocia
To plan a cheap trip to Cappadocia, you can easily save travel expenses by knowing what activities you can do and at what prices.
Saving and lowering travel costs is perhaps one of the most attractive aspects of travel.
So if you can't get into a hot air balloon because it's too expensive, you can definitely do other fun activities.
And if you insist on taking the hot air balloon, you can save your travel expenses by cutting back on some of the other activities so you can buy those balloon tickets.
Here is a list of the activities you can do on your trip to Cappadocia.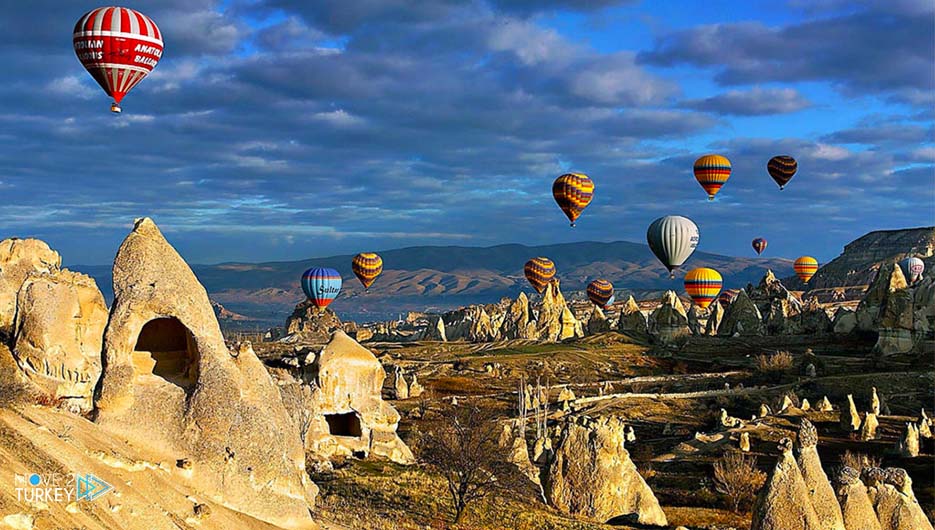 Things to do in Cappadocia
Walk and explore the city
Go hiking and mountain climbing in Cappadocia on your own instead of buying a Cappadocia tour from tour companies, as the price of these tours is relatively high.
Walking in Cappadocia is free entertainment, so do many walking tours in this area, and many of these tours will allow you to see beautiful sights worth photographing.
You can visit the attractions you want without being restricted to an expensive tourist tour program.
Walk alone through the surrounding alleys, the roads are very clear in Cappadocia, so you will not get lost in any way.
Watch or take the hot air balloon tour in Cappadocia
If you have enough money for an hour's hot air balloon ride, Cappadocia is definitely worth a look from the sky.
Otherwise, you can enjoy watching the wonderful sight of beautiful balloons in the sky.
To purchase a hot air balloon tour in this area, go to tours that also provide you with a free breakfast.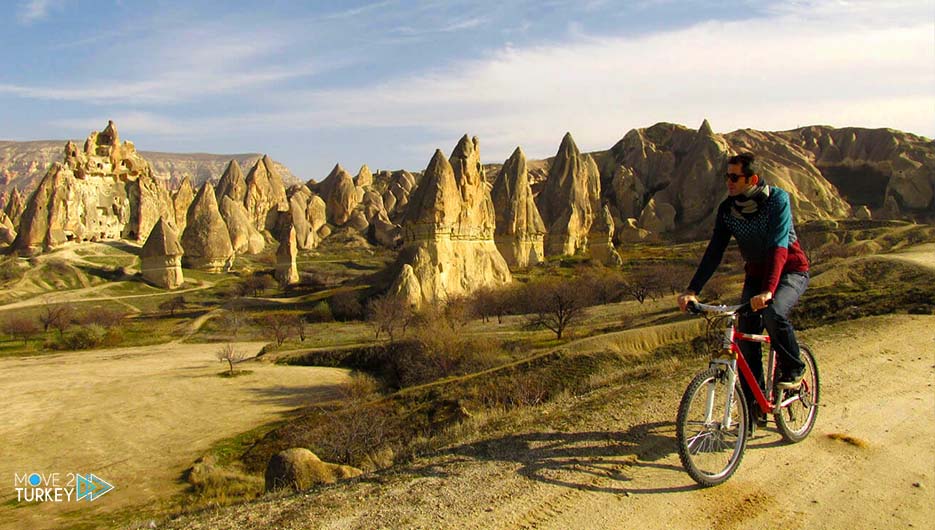 Cycling in Cappadocia
You can choose 4 hours of cycling activities instead of two hours of flights on a balloon. In return, you can quietly watch the balloons and enjoy the wonderful view of the sky full of balloons instead of riding them.
As there are specific roads between these mountains for cyclists, you can choose the easy roads, ride a bike and enjoy the area better.
You can find good 4-hour bike rental facilities and you can even go see valleys by bike.
The price for renting a bike is 20 liras for four hours, and if you rent the bike for the whole day it will be cheaper as you will pay about 30 liras.
As we said earlier, the roads in Cappadocia are very clear and do not need assistance. You can locate any place you want to go on the map and reach it easily.
Visit the wonderful valleys of Cappadocia
Go for a walk to the gorgeous volcanic Rose Valley, then you can visit the Göreme Zemi Valley. A walk in this valley can be very appealing.
You will walk through tunnels, go down valleys, then climb rocks along the way, and you can finally watch the sunset in this area. On your way do not miss visiting Kılıçlar Valley.
Visit the Cappadocia Museum
You can visit the Gourmet Open Air Museum. To do this you must pay an entrance ticket, you will see in this museum very valuable things from the beginning of Christianity.
But if you are looking for completely free entertainment, it is better to walk around and see the temples around it.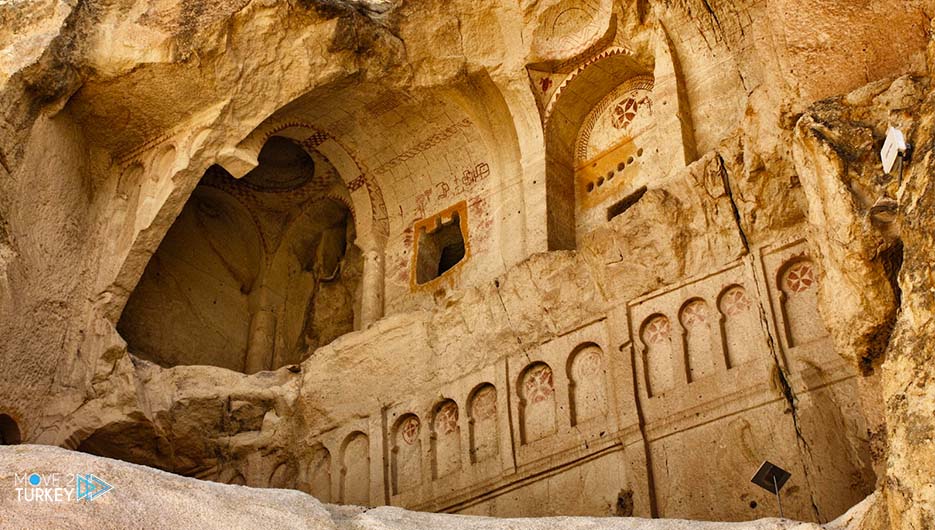 Explore historical churches
On a trip to Cappadocia, visit the historical churches, these churches do not need an entrance ticket so it will not cost you anything.
You will enjoy visiting them instead of paying the museum ticket, as it is located near the museum in the mountains.
In these churches, you will see paintings dating back about 1000 years.
Eat delicious local food in Cappadocia
Drink tea in outdoor cafes at sunset instead of spending time in fancy cafes, and when you feel hungry you can go to local restaurants instead of choosing expensive restaurants.
You can also order meals such as lunch in cafes, so you can pay much less for food, and in the café menu, you will find cheap and delicious dishes such as ground meat sandwiches, burek and many others.
For dinner, it is best to go to restaurants that offer you local food in traditional places, we hope that you will have the best trip to this UNESCO-listed tourist area.
Visit Cappadocia in the autumn
If you travel to Cappadocia in the autumn months, you will see fewer tourists.
Although it is autumn, the winds will not be annoying.
You may only meet tourists in the volcanic Rose Valley, but you probably will not see tourists in other areas.
So for couples, traveling to Cappadocia in the autumn will be a much better idea.
Watch the magical sunset among the rocks in Cappadocia
Walk along a narrow path that leads to the top of the strait, and within 5 minutes you will reach a point known as the Sunset Point.
Here you can watch the sunset between the cliffs and the rocks.
Although there is a cafe for snacks and tea, many tourists bring food with them.
You can bring a sandwich, drink a cup of tea and enjoy yourself while watching the sunset.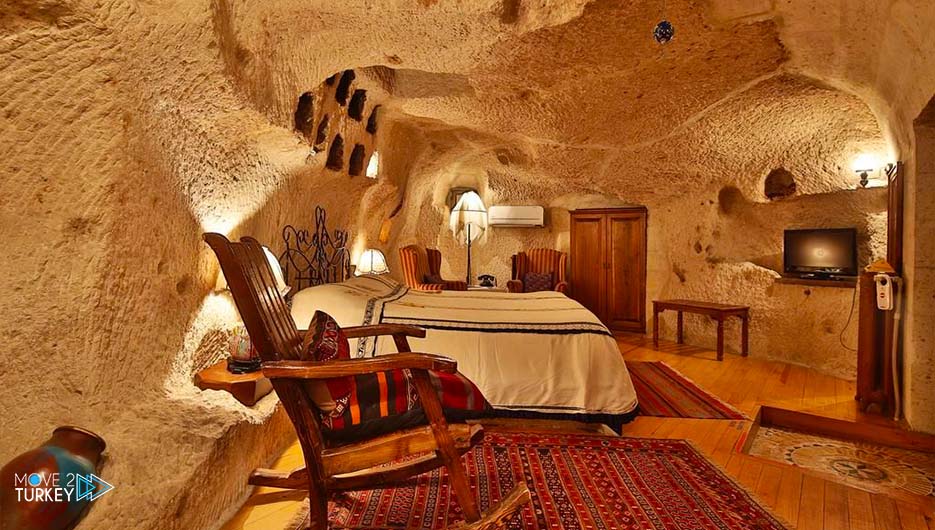 Stay in a privileged hotel in Cappadocia
The hotels and resorts in the area are much more expensive than you think.
However, you can find unique, distinctive and cheap hotels compared to other luxury hotels such as Cave Life.
You can experience cave life with this hotel which has a good environment and offers you a lower price for booking a room.
By doing the things we have mentioned to you, you can get a cheap trip to Cappadocia and enjoy the most beautiful activities in this region.
Of course, we remind you that costs such as bottles of mineral water and snacks are very expensive.
So for a cheap trip to Cappadocia, it is best to eat and drink like the locals.