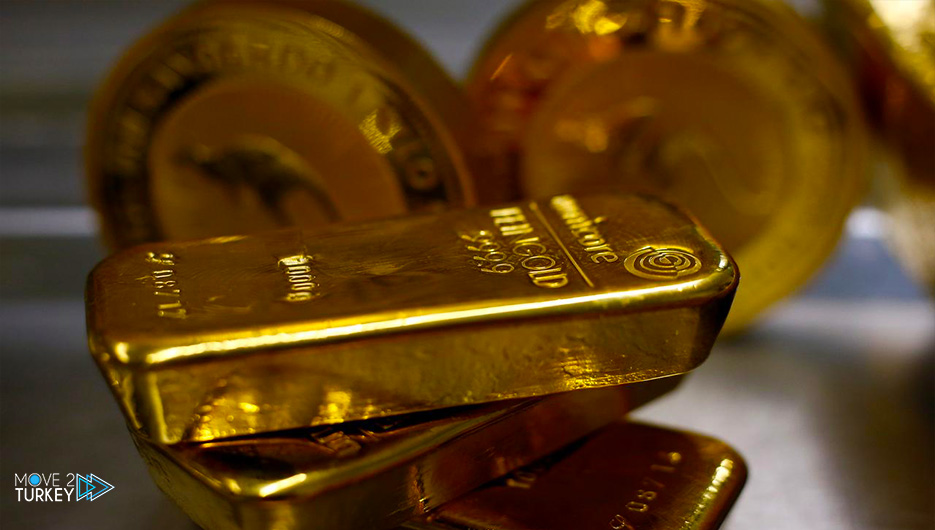 Gold contracts jumped by about $ 20, while the US currency fell, as investors sought safe-havens, under pressure from the fears of the new mutation of the Coronavirus.
And by 9:12 (GMT), gold rose in spot transactions by $ 15.19, or 0.85 percent, to $ 1804 an ounce.
US gold futures jumped $19.7, or 1.1 percent, to $1,804 as well.
Investors rushed to acquire gold as a safe haven after detecting infections with a new strain of Corona in Africa.
Health experts say it is more deadly than its predecessors and is capable of bypassing vaccines.
Many countries of the world rushed to impose restrictions, especially on travel from Africa, which led to a decline in high-risk financial instruments such as stock markets.
And gold, which does not generate returns, is one of the best safe havens, and investors resort to it in crises to hedge against inflation.
And the attractiveness of gold was increased by the decline of the dollar, after the discovery of the new mutant of Corona "B1529.1" reduced the possibility of accelerating the Federal Reserve (the US central) steps of the shift towards tightening monetary policy.
The dollar index, which measures the performance of the US currency against a basket of six major competing currencies, fell 0.5% to 96.39 points.
The depreciation of the dollar reduces the cost of acquiring gold for holders of other currencies.
However, gold is still below its closing level last week by about 2.5 percent, which is the worst weekly performance for the precious metal since mid-August.
Gold was negatively affected last week by increasing bets that the US Central Bank would speed up the process of reducing monetary stimulus.
To end sooner than mid-2022 and start raising interest rates in the face of inflationary pressures.
And US inflation recorded an increase of 6.2 percent last October, the fastest pace in 31 years.
US data on Thursday also showed new jobless claims fell to a 52-year low last week.
An indication of the recovery of the local labor market, which reinforced expectations of an acceleration of monetary policy tightening.