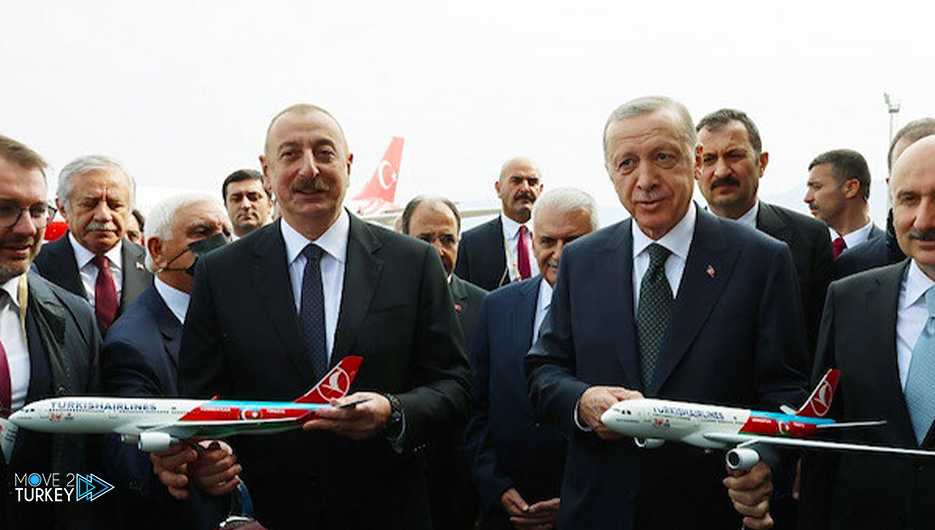 Turkish President Recep Tayyip Erdogan and Azerbaijani President Ilham Aliyev inaugurated Thursday Zangilan International Airport in the liberated Karabakh region.
The two presidents received symbolic keys to the airport, and journalists' lenses took pictures of them holding the keys before they toured the airport building.
Earlier, Erdogan arrived at the airport, which is the second that was built with the contribution of Turkish companies in the liberated lands of Azerbaijan.
Erdogan is accompanied on the visit by Deputy Speaker of Parliament Celal Adan and ministers; Foreign Affairs, Mevlüt Çavuşoğlu, Defense Hulusi Akar, Agriculture and Forestry, Vahid Kirishci, Transportation and Infrastructure, Adil Kara Ismailoglu.
He is also accompanied by the head of the presidential communications department, Fakhreddin Altoun, and presidential spokesman Ibrahim Kalin, in addition to a number of officials in the Justice and Development Party.
Erdogan and Aliyev laid the foundation stone for Zangilan Airport in late April 2021, to be completed in just a year and a half, according to high international standards.
On September 27, 2020, the Azerbaijani army launched an operation to liberate its lands occupied by Armenia in the Karabakh region, and after 44 days of battles, Russia announced that Azerbaijan and Armenia had reached a ceasefire agreement stipulating that Baku regained control of the occupied provinces.