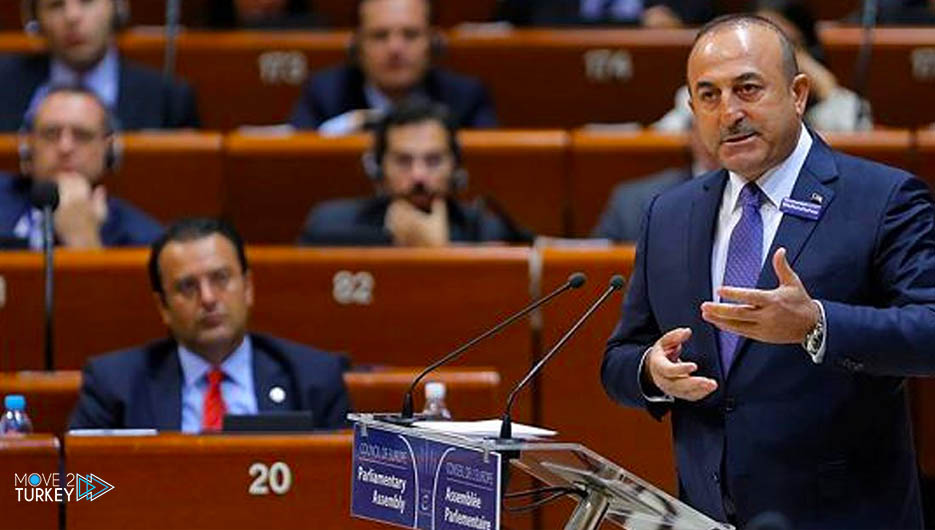 Turkish Foreign Minister Mevlüt Çavuşoğlu said that relations with Hungary have reached a very important point in recent years.
This came in a speech during the foundation stone laying ceremony for the new building of the Budapest Embassy in Ankara, accompanied by his Hungarian counterpart Peter Szijjarto.
Çavuşoğlu explained that the first agreement Turkey signed after the declaration of the republic in 1923 was a friendship agreement with Hungary.
He pointed out that the Hungarian embassy, ​​which was built in the early years of the Turkish Republic, served the relations between the two countries for nearly a century.
He pointed out that Hungary was the first country to open a department of Turkology (humanistic sciences concerned with studying languages, history, literature and others for speakers of Turkish peoples) in the world.
He indicated that they attach great importance to its contributions as an observer member of the Organization of Turkish States.
He added that Turkey has developed its economic relations with Hungary, and that Turkish companies are constantly increasing their investments there.
He continued, "Turkish companies have implemented projects worth more than 700 million dollars in Hungary in recent years.
The volume of trade exchange between the two countries increased in 2021 by 11 percent, exceeding $3 billion, and our goal is to reach $6 billion.
For his part, Sijarto thanked Çavuşoğlu for his participation in the ceremony.
He added: "The cooperation and strategic partnership between Hungary and Turkey is a relationship that can be expected, and the development of cooperation has always been the focus of Hungarian foreign policy, and I hope it will remain so."
He indicated that mutual respect is the basis for success in Hungarian-Turkish relations and a guarantee for the coming years.
He also expressed his hope that Turkey's efforts to resolve the Ukrainian crisis would yield results as soon as possible, adding: "We trust our Turkish friends to prevent increased immigration."
Szijarto pointed out that the volume of bilateral trade between the two countries set a record last year, stressing that Turkey's economic and political weight is increasing.