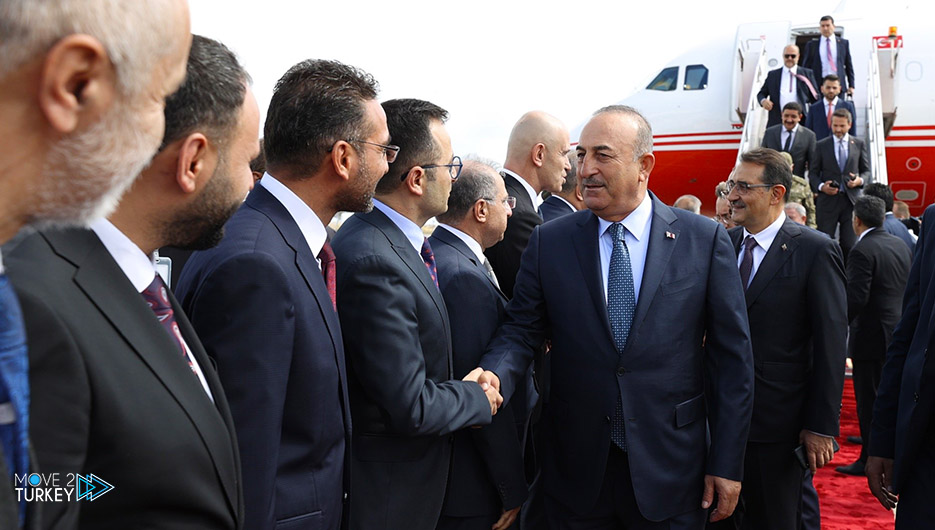 Turkish Foreign Minister Mevlüt Çavuşoğlu stressed Monday that the visit of a delegation from his country to the capital, Tripoli, came to "confirm Ankara's support for the security and stability of Libya."
This came during a meeting of the Turkish delegation with the Prime Minister of the Government of National Unity, Abdel Hamid Dabaiba, in the Libyan capital, Tripoli.
Çavuşoğlu conveyed the greetings of President Recep Tayyip Erdogan and the Turkish people to Dabaiba, expressing his great pleasure to be in Tripoli again.
He said, "We are in Tripoli today with our friends to confirm our support for Libya's security and stability after the developments that took place at the end of last August."
For his part, Dabaiba stressed that the Libyans wish to "strengthen cooperation with the Turkish people," indicating that his government seeks "to strengthen relations between the two countries."
The Libyan government said in a statement that Dabaiba discussed with the Turkish delegation "the preparations for holding the Supreme Libyan-Turkish Strategic Council in Tripoli and a forum for partnership between the two countries, which will represent the launch of a number of important strategic projects."
In another meeting, Dabaiba, in his capacity as defense minister, met with Turkish Defense Minister Hulusi Akar in Tripoli, according to another statement by the Libyan government.
According to the second statement, "the meeting was devoted to discussing military cooperation between the two countries and a number of training programs for the Libyan army."
The meeting also discussed "providing a set of advanced equipment for a number of the Libyan army's general staff," according to the statement.
In addition to Çavuşoğlu, the Turkish delegation included Minister of Energy and Natural Resources Fatih Donmez, Minister of Defense Hulusi Akar and Minister of Trade Mehmet Muş, in addition to the head of the presidential communications department Fahrettin Altun and the presidential spokesman, Ambassador Ibrahim Kalin.
On the Libyan side, Foreign Minister Naglaa al-Manqoush, Minister of Oil and Gas-designate Muhammad al-Hawij, Ministers of State for Communication and Political Affairs Walid al-Lafi and for Cabinet Affairs, Prime Minister Adel Jumaa, Governor of the Central Bank of Libya, Siddiq al-Kabir, and Chief of General Staff Muhammad al-Haddad attended.
On August 27, the Libyan capital witnessed clashes between brigades affiliated with and loyal to the two rival governments, leaving 32 dead and 159 wounded.
Two governments have been wrestling in Libya since last March, one headed by Fathi Bashagha and assigned to it by the House of Representatives in Tobruk (east), and the other is the National Unity Government headed by Abdel Hamid al-Dabaiba, who refuses to hand over power except to a government assigned by a new elected parliament.