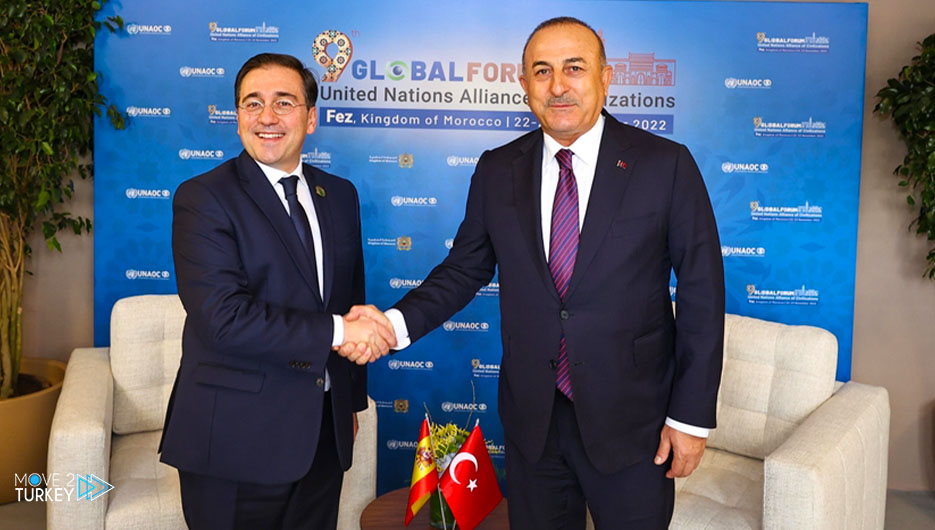 Turkish Foreign Minister Mevlüt Çavuşoğlu met with his Spanish counterpart Jose Manuel Albares on the sidelines of the Ninth Global Forum of the United Nations Alliance of Civilizations.
In a tweet on his Twitter account on Tuesday, Çavuşoğlu said that he had held a meeting with his Spanish counterpart in the Moroccan city of Fez.
He added that he discussed with his Spanish counterpart the developments in Ukraine, the expansion of the North Atlantic Treaty Organization (NATO), and defense cooperation between the two countries.
Earlier on Tuesday, the work of the ninth global forum of the United Nations Alliance of Civilizations was launched in the city of Fez, and it will continue for two days.
The forum, which will be held for the first time in an African country with the participation of 50 countries at the ministerial level, will discuss "the necessity of coexistence and the promotion of diversity and wealth", according to the organizers.
According to the organizers, the forum witnessed the registration of more than 1,000 activists from all over the world working for understanding and respecting different cultures and civilizations, in addition to 96 delegations from all countries.