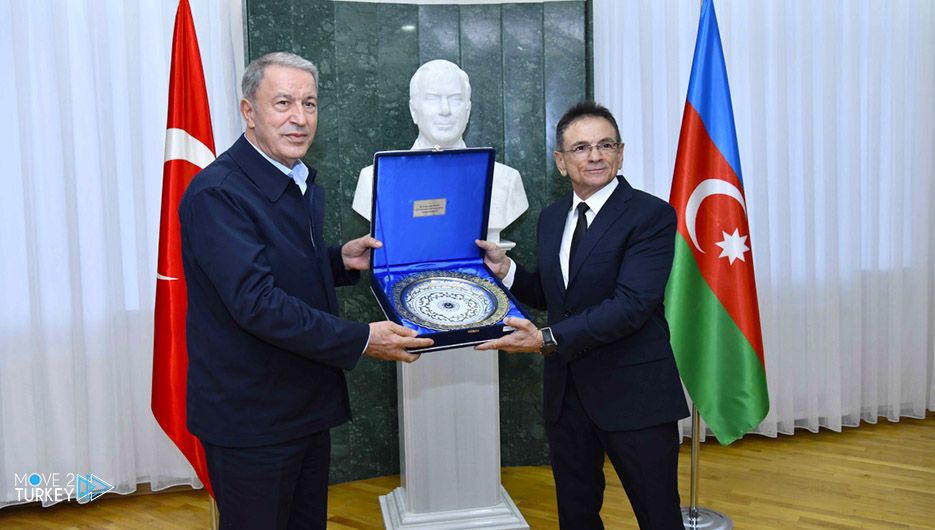 Azerbaijan's Minister of Defense Industries, Medad Guliyev, awarded Turkish Defense Minister Hulusi Akar the Order of "Cooperation in the Field of Defense Industry" for his support of the Azerbaijani army.
This took place at a ceremony held at the Ministry of Defense Industries of Azerbaijan in the capital Baku on Tuesday, where Guliyev presented the medal on behalf of President Ilham Aliyev.
In a speech during the ceremony, Akar thanked Azerbaijan for the hospitality, indicating that Turkey and Azerbaijan are working tirelessly in cooperation for the security, future and well-being of the Turkish nation.
Akar pointed out to the existence of cooperation in the field of military training between the two countries and the defense industries, pointing to the determination of Presidents Recep Tayyip Erdogan and Ilham Aliyev in this regard.
For his part, Guliyev said that he was honored to host Akar and award him the medal, expressing his thanks to the Turkish minister for his support of the Azerbaijani army.
After the ceremony, Akar and the Turkish delegation accompanying him, which includes Chief of Staff Yasar Guler and army commanders, went to the headquarters of the Turkish Embassy in Baku and got information about the embassy's activities in Azerbaijan.