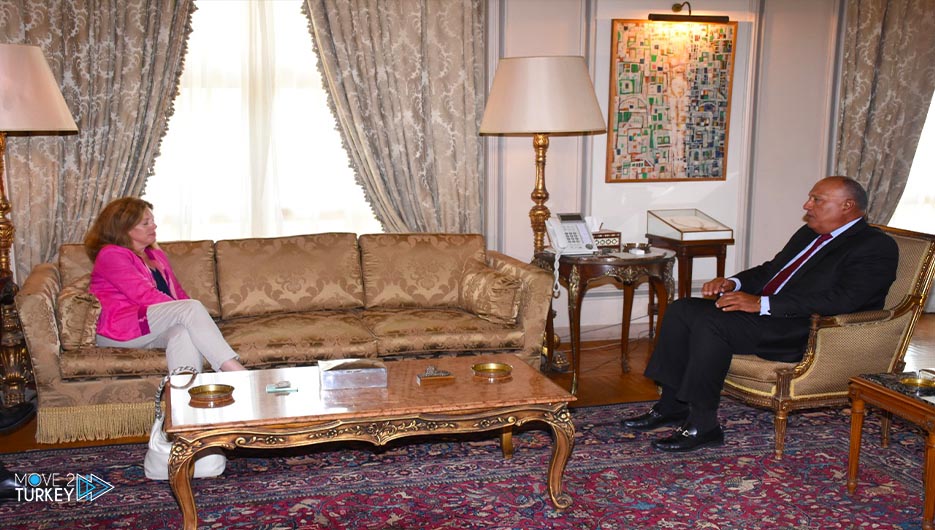 Egyptian Foreign Minister Sameh Shoukry discussed with his Libyan counterpart, Najlaa Al-Manqoush, on Saturday, ways to advance the political process in Libya, during her first visit to Cairo.
And the Egyptian Ministry of Foreign Affairs reported via Twitter that Shoukry received the inscription at the ministry's headquarters in Tahrir Palace (in central Cairo).
She added that the meeting "discussed ways to enhance bilateral relations between the two brotherly countries and consulted on ways to advance the political process in Libya."
In addition to supporting the efforts of the Libyan brothers to achieve security, stability and development," without further details.
The Libyan side did not issue details about the duration of the visit and the meeting, but it is the first visit of Al-Manqoush to Egypt since he took office months ago.
For months, the oil-rich country has been witnessing a political breakthrough. On March 16, it received an elected transitional authority that includes a unity government and a presidential council.
Its duties are to lead the country to parliamentary and presidential elections on December 24.
In a remarkable change in the tensions with its previous counterpart, on February 5, the Egyptian Foreign Ministry conveyed the congratulations of its country to the government of Abdel Hamid al-Dabaiba in Libya.
The letter arrived two weeks later to visit Cairo in the first foreign station, intending to raise the level of strengthening relations.
On April 20, the Prime Minister of Egypt, Mostafa Madbouly, arrived in Tripoli, accompanied by 11 ministers.
This is the first visit by an Egyptian official in the position of prime minister to the Libyan capital since 2010, and it ended with the signing of agreements, some of which are economic.
While Dabaiba spoke during Madbouly's meeting about the birth of "a new phase of partnership between the two countries and the signing of important agreements."
And in early May, the Egyptian ambassador, Mohamed Tharwat, arrived in Tripoli to start the resumption of diplomatic work.
And this is before the joint Libyan consular committee with Egypt resumed its work in Cairo after 8 years of hiatus.