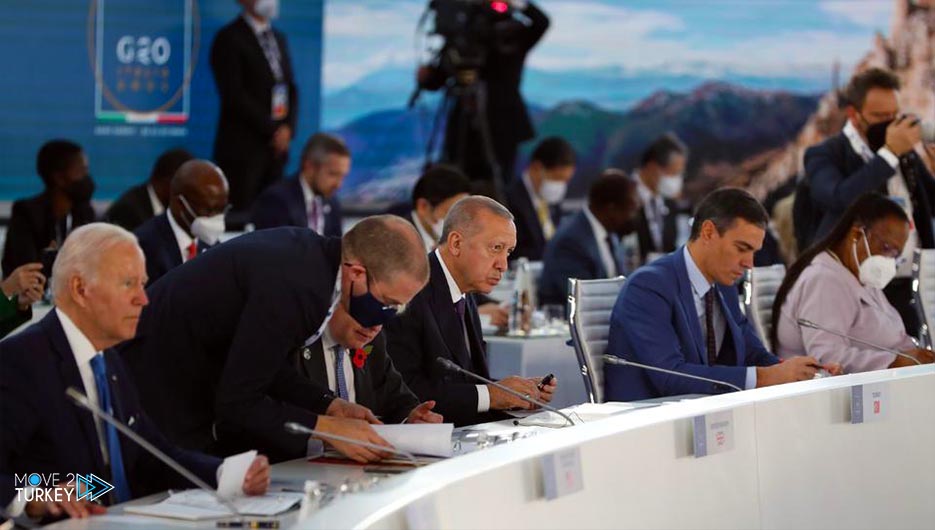 Head of Communications Department of the Presidency of the Republic of Turkey Fahrettin Altun stated that President Recep Tayyip Erdogan held constructive meetings with world leaders.
To meet global challenges on the first day (Saturday) of the G20 Leaders Summit in Italy.
Through a video clip posted on his Twitter account on Sunday, Altun explained that President Erdogan affirmed Turkey's commitment to work with all countries to confront the global challenges associated with the outbreak of the Coronavirus.
He confirmed that Erdogan conveyed to leaders including European Commission President Ursula von der Leyen and Indonesian President Joko Widodo.
In addition to the Prime Ministers of Italy, Mario Draghi, and the Netherlands, Mark Rutte, said that Turkey is ready to play its role in responding to the consequences of the epidemic.
Altun noted that the Turkish economy, under the leadership of President Erdogan, has achieved remarkable growth during the past nine months of this year, at a time when the global economy has witnessed a downturn.
"Our country has avoided applying trade restrictions and protectionist policies during the pandemic," he said.
We have continued to assist countries during this critical period by sending medical equipment and aid to nearly 160 countries."
He added, "We have made great progress in the vaccination program (against Corona), which is of great importance in terms of keeping our economy on the right track.
Turkey has not only made great progress in vaccination but has also developed a home-grown vaccine that will soon be available to our citizens."
He stressed that the G20 countries should make more efforts to help the least developed countries in immunization programs (vaccine) to eliminate the epidemic.
He emphasized that President Erdogan continues to produce solutions to global problems in important platforms such as the G20.
It stresses the importance of cooperation between advanced economies and less developed countries in order to overcome the problems of our world.