Estimated reading time: 3 minutes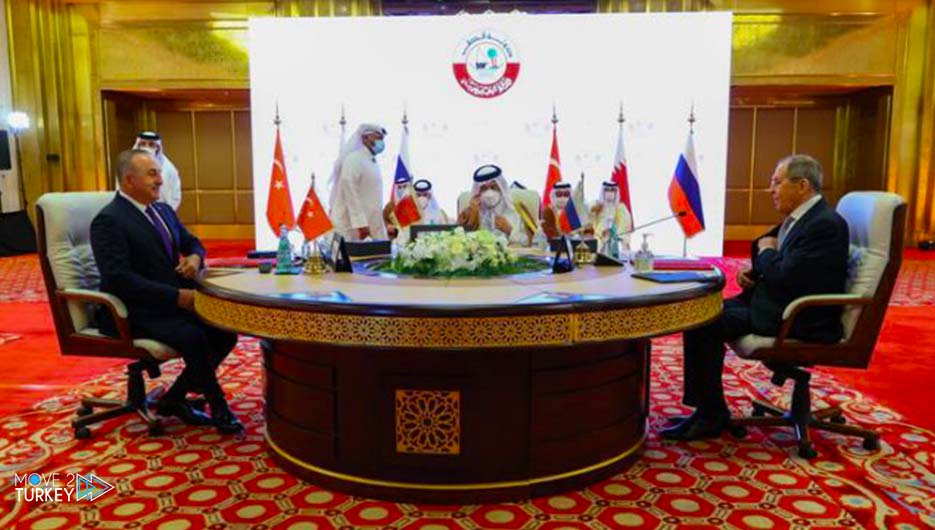 Today, Thursday, a tripartite meeting was held between the foreign ministers of Qatar, Russia and Turkey, focusing on regional and global issues, most notably the Syrian crisis.
According to local and international news agencies, Qatari Foreign Minister Muhammad bin Abdul Rahman Al Thani, his Russian counterpart Sergey Lavrov, and Turkish Foreign Minister Mevlut Cavusoglu discussed ways to solve the Syrian crisis, peace talks in Afghanistan, and the situation in other countries.
The Iranian nuclear issue was also discussed.
Before the meeting, the Qatari foreign minister met separately this morning with the foreign ministers of Russia and Turkey.
The participants in the meeting stressed the importance of supporting projects aimed at building confidence among the Syrian parties regarding the release of detainees.
They affirmed their countries' determination to confront all forms of terrorism and separatist plans that threaten the territorial integrity of Syria and the security of neighboring countries.
Lavrov also said that unilateral and illegal sanctions by the West are preventing the solution of important problems in Syria.
These sanctions are not only against the legitimate authorities in this country, but against the entire Syrian people.
The Russian Foreign Minister added: "This is the first meeting at the level of foreign ministers of the three countries on Syria, and that his country is participating in international efforts for the safe return of refugees to their countries."
The Qatari foreign minister said, "We hope that these meetings will be held periodically so that coordination continues."
The Qatari Foreign Minister stated: The three countries discussed developments in the situation in Syria and the possibility of sending humanitarian aid to Syria.
The Qatari Foreign Minister stressed the territorial integrity of Syria, the lack of a military solution to the crisis, its support for the negotiations of the Syrian Constitutional Committee, and the safe and voluntary return of refugees.
He added that they discussed the situation in the Gulf after Al-Alaa's statement, as well as the situation in Libya and Afghanistan.
Cavusoglu also stressed the importance of the new tripartite mechanism on Syria and said:
"These meetings will continue periodically, and Turkey will be the next host, and after that, Russia will be the host."
The Turkish Foreign Minister said that new consultative talks on Syria began with the foreign ministers of Russia and Qatar, with the aim of reaching a political solution to the crisis in this country.
Cavusoglu added: "The war in Syria cannot be ended without finding a political solution, and the Syrian regime must be pressured to break the current recession."
He also pointed out: "We will continue to work with Qatar to alleviate the burden of the Syrian humanitarian crisis and achieve a political solution."
The Turkish foreign minister stressed the need to increase humanitarian aid efforts to Syria, especially during the Coronavirus crisis.
According to the Al-Jazeera correspondent, the meeting emphasized the territorial integrity of Syria and the solution to the humanitarian crisis for the Syrian people.
He added: "These new talks will be at the regional level to help in regional issues, and these meetings will be regular. So that the next meeting will be in Turkey and then in Russia."