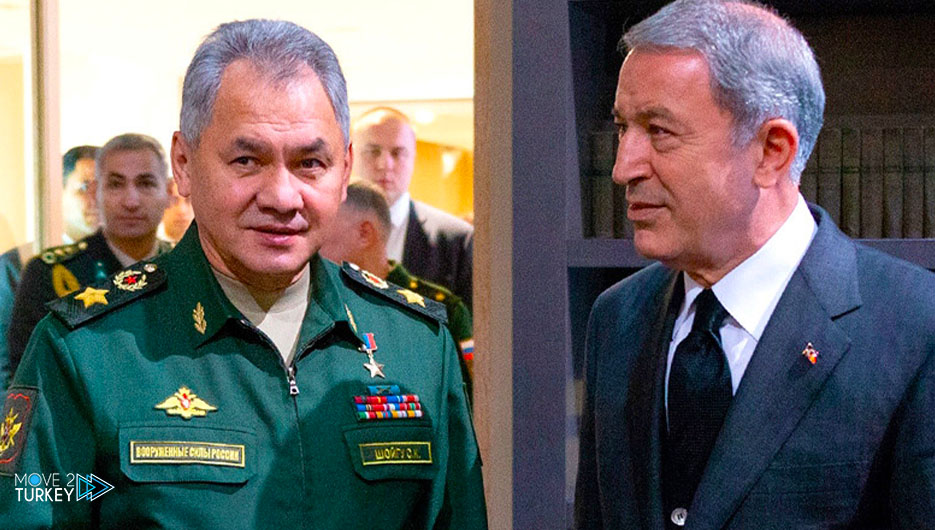 Turkish Defense Minister Hulusi Akar discussed with his Russian counterpart Sergei Shoigu bilateral and regional defense and security issues, especially in Ukraine and Syria.
This came during a telephone conversation between them on Tuesday, according to a statement published by the Turkish Ministry of Defense.
Akar stressed the importance of "declaring an immediate ceasefire in Ukraine in order to prevent further loss of life and restore peace and stability in the region, which President Recep Tayyip Erdogan has repeatedly emphasized."
According to the ministry's statement, it was noted during the call that there is a consensus between the two sides on a ceasefire, and the focus has been on developments related to the successful ongoing grain shipment (according to the Istanbul Agreement).
Akar reiterated Turkey's constant readiness to do what is on its shoulders to ensure peace in the region, and that his country is keen to provide all kinds of support in the issue of humanitarian aid.
Last July 22, Istanbul witnessed the signing of the "Document on the Safe Shipping Initiative for Grain and Foodstuffs from Ukrainian Ports" between Turkey, Russia, Ukraine and the United Nations.
The agreement included securing exports of grain stuck in the Ukrainian ports on the Black Sea (Eastern Europe) to the world to address the global food shortage crisis, which threatens a humanitarian catastrophe.
Since February 24, Russia has launched a military attack in its neighbor Ukraine, which has damaged the food and energy sectors worldwide and prompted many capitals to impose economic, financial and diplomatic sanctions on Moscow.
With regard to the developments in northern Syria, the Turkish minister stressed that his country's most important priorities are to permanently prevent the threat of terrorism and to neutralize terrorist organizations.
Akar once again stressed the importance of adhering to previously concluded agreements in this context.