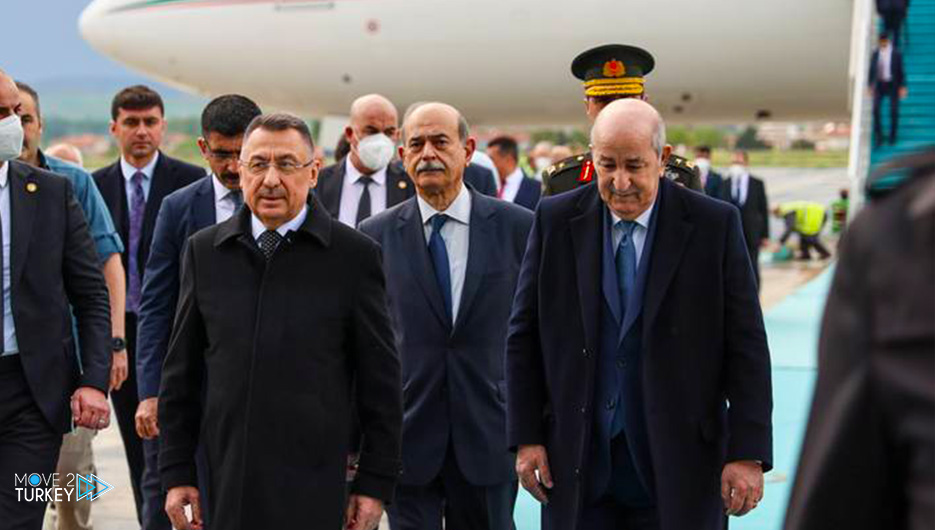 Algerian President Abdelmadjid Tebboune said on Sunday evening that his country's relationship with Turkey is "very strong", expressing readiness to develop it to a "highest level".
This came during Tebboune's meeting with representatives of the Algerian community in Turkey upon his arrival in the capital, Ankara, on a three-day visit to discuss bilateral cooperation and issues of common interest.
According to the Algerian news agency quoted the meeting, President Tebboune said, in response to questions from representatives of the community, that the relationship between Ankara and Algeria is "very strong" and that the latter is "ready to develop it to the highest level."
The Algerian president stressed "the importance of relations between the two countries at all levels, especially economic, political and historical."
Tebboune explained that his visit to Turkey was "necessary, especially since bilateral relations have witnessed a remarkable development during the past two years."
He stated that "Turkish investments in Algeria are ranked first among the countries in which Turkey invests, reaching more than 4 billion dollars, and the volume of trade exchanges between the two countries ranges between 4 and 5 billion dollars annually."
On Sunday, Algerian President Abdelmadjid Tebboune arrived in the Turkish capital, Ankara, for a 3-day official visit, and was received by Turkish Vice President Fuad Oktay.
Tebboune's visit comes at the invitation of his Turkish counterpart, Recep Tayyip Erdogan, according to a previous statement by the Communications Department of the Presidency of the Turkish Republic.
Erdogan and Tebboune will chair in Ankara on Monday the first meeting of the High-level Cooperation Council between the two countries.
While Tebboune will chair, alongside Erdogan's deputy, the Turkish-Algerian Business and Investment Forum in Istanbul on Tuesday.