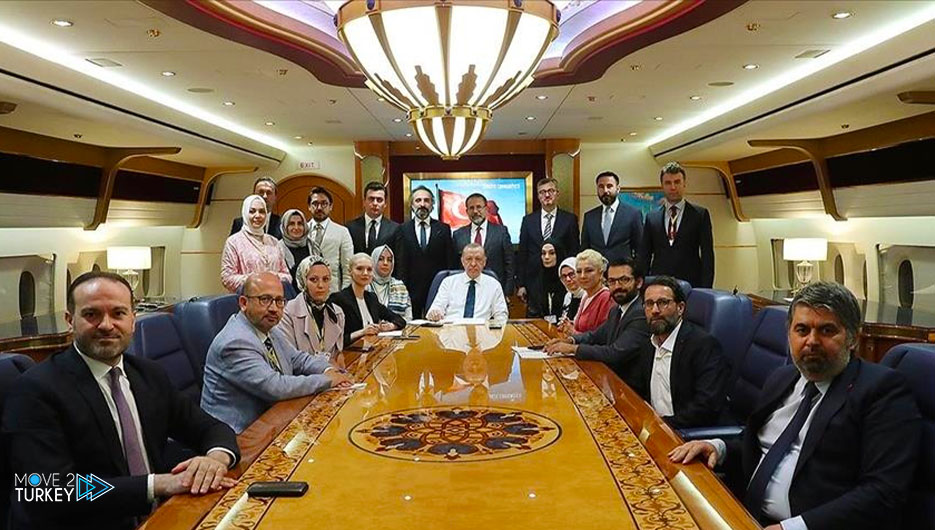 Turkish President Recep Tayyip Erdogan said that Ankara and Riyadh have agreed to push forward joint economic cooperation.
This came in statements to reporters on the plane during his return from the Kingdom of Saudi Arabia, after a two-day visit.
President Erdogan noted that he had made a successful visit to Saudi Arabia at the invitation of King Salman bin Abdulaziz Al Saud.
He pointed out that on the first day of the visit, King Salman and Crown Prince Mohammed bin Salman met and discussed with them the topics on the agenda between the two countries.
He stated that the bilateral relations in all its aspects were reviewed and views were exchanged on regional and international issues.
He also indicated that joint steps that can be taken to develop Turkish-Saudi relations were discussed.
He added: "I renewed our support for the security and stability of the Kingdom of Saudi Arabia and stressed that we do not differentiate between our security and the security of the Gulf region."
He added that restoring the momentum in trade between the two countries, removing customs obstacles, and encouraging investments and projects that can be undertaken by Turkish contractors constituted the main axes of the talks in terms of bilateral relations.
He also pointed out that the two sides discussed ways of cooperation in the defense industries as well and the problems facing Turkish citizens and Turkish companies in Saudi Arabia.
Erdogan added, "We agreed with Riyadh to reactivate the great economic potential between Turkey and Saudi Arabia through events that bring together investors from the two countries."
He expressed Turkey's support for the organization of the "Expo 2030" international exhibition in Saudi Arabia.