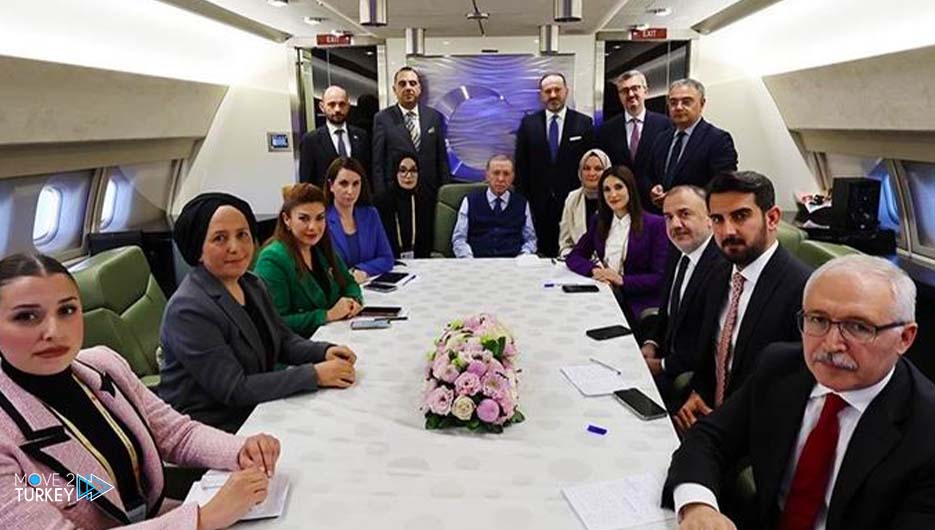 Turkish President Recep Tayyip Erdogan said that Israeli Prime Minister Benjamin Netanyahu "is no longer someone we can talk to in any way."
This came in statements to reporters on board the plane during his return from Kazakhstan following his participation in the summit of the Turkish Organization of States on Friday.
President Erdogan pointed out that "Netanyahu is personally primarily responsible" for the attacks on Gaza, and "the Israeli interior is currently witnessing statements against him."
He continued, "Netanyahu is a person who also arouses the anger of the Israeli people. He has lost the support of his citizens and is seeking to garner support for the massacres by using religious expressions."
He added, "Netanyahu is no longer someone we can talk to in any way. We erased him and cast him aside."
He continued: "Israel has taken a very wrong step. I can say that it has darkened its future with this step. This is a situation that not only disturbs Israel, but also its extensions abroad, so what it must do is to retract this step and stop it."
In response to a question about the intense diplomatic movement he is leading to stop the Israeli attacks on Gaza, Erdogan indicated that they have held many meetings in this regard.
He stated that Turkey will participate in the Organization of Islamic Cooperation summit in the Saudi capital, Riyadh, this November.
He said in the same context, "We also have a visit to Uzbekistan next week. These are important visits at a very critical time. Iranian President Ibrahim Raisi will come (to Turkey) at the end of this month and we will meet him."
He added, "I attach importance to the Organization of Islamic Cooperation summit in Riyadh. We will press for a ceasefire."
The Turkish President stressed the importance of the position of the Organization of Islamic Cooperation countries in this regard.
Erdogan pointed out that he seeks to "stop the bloodshed" by holding meetings with everyone, which "will continue in the coming days as well."
He pointed out that the international community, "unable to curb Israel's lawless approach, primarily ignores its principles."
He continued, "As if ignoring the massacre of the Palestinians is not enough, they are entering into an embrace race with Israel and encouraging it to kill more children."
He said: "Western countries that bow their heads when reminded of previous massacres that they turned a blind eye to will be crushed under the shame of their positions regarding the Gaza massacres."
Erdogan asked, "We shout: Where is justice? Where are the international organizations that were established to maintain peace? Where are the human rights defenders?"
He said, "The world order and international law now face a difficult test."
He continued: "If Israel is not stopped and held accountable for its actions, people's already diminished confidence in international law and the global order will disappear. We will do our best to implement international law and punish war crimes."
Erdogan pointed out that "the human tragedy in the occupied Palestinian territories, especially Gaza, was on the agenda of the Turkish Organization of States summit."
He added, "We exchanged views on how to stop the bloodshed and contribute to lasting peace."
He reiterated his emphasis that Turkey can play the role of a guarantor state in Gaza within the framework of the guarantors mechanism proposed by Ankara.
Erdogan said, "If Greece is a guarantor state in Cyprus, and Britain is as well, and Turkey is also a guarantor state of course, then why is there not a similar mechanism in Gaza?"
He continued, "We, as Turkey, must assume a leadership role in this regard, and this will be a development that will shape history, the present, and the future."
President Erdogan noted that nearly a month had passed since the attacks began and said, "At the present time, we see that the developments will move the situation further against Israel."
He pointed out that "Israel did not take this brutal step relying only on its strength, but also on Western support."
He added that "the United States should be evaluated as part of the West."
He continued, "The entire West, especially the United States, currently stands with Israel."
Erdogan stressed Turkey's desire "to see Gaza as a region enjoying tranquility as an integral part of the independent, geographically integrated State of Palestine on the 1967 borders, with East Jerusalem as its capital."
He added, "All our efforts are directed toward Gaza and a Palestine that enjoys tranquility, where people are not killed or displaced, and hospitals, streets, schools, and places of worship are not bombed."
The Turkish President said that he informed all the leaders he spoke with that "unless a just and lasting peace is established in the region, it will not enjoy calm."
He pointed out that "even countries that turn a blind eye to Israel's massacres and stand behind them and do not hesitate to violate the values they defend also realize this."
Erdogan affirmed Turkey's support for initiatives that bring stability and peace to the region, saying, "We do not support plans that target the lives of Palestinians and seek to remove them from the stage of history."
He added, "Formulas that would make Israel, which kills civilians without batting an eyelid and rains bombs on infants and wounded in hospitals, more reckless, are not a solution for us, but rather are the source of the absence of a solution."
Erdogan criticized "some countries that tolerate elements of terrorist organizations under the guise of freedom of expression."
He said that these countries (he did not name them) "tried to ban the Palestinian flag, which is a symbol of a people."
He continued: "Despite all the bans and obstacles on the streets of Europe, people are demanding justice in the squares."
He called on the world to "hear the cries of Palestinian children."
He added, "We strive for Palestinian children to be able to live in peace like other children in the world and to live in a better world without worrying about their security."
He continued, "The world cannot ignore their (children's) desire to live freely and in peace in their land. We will continue to remind them of this and extend a helping hand to them."
The Turkish President stressed that "extending a helping hand to these innocent and persecuted people is a debt on our shoulders and a humanitarian duty."
He added: "Israel, which is deliberately trying to cause the collapse of the health system in Gaza, and the international community, which turns a blind eye to injustice, have left civilians, the sick, and infants (in Gaza) to die."
He pointed out that the humanitarian conditions in Gaza are getting worse, and said, "Our priority now is for all aid sent to Gaza to arrive, but Israel does not allow that."
He continued: "We have made all our preparations, from establishing field hospitals to sending hospital ships to treat patients. We are even continuing our work on transporting the wounded and sick to Turkey. We will not leave Gaza alone and desperate."
He stated, "The vote at the United Nations (on the Israeli attacks on Gaza) was very important. In fact, this vote was like a school certificate that revealed Israel's failure and failure."
At the end of last October, the United Nations General Assembly adopted a resolution on Gaza calling for an immediate and sustainable humanitarian truce. 120 countries voted in favor of the resolution, 14 opposed it, while 45 countries abstained from voting.
Erdogan criticized the European Union's position on the Israeli attacks on Gaza, saying that it "played a strange and very inconsistent role during this period and did not adopt a fair approach."
He asked, "What is the European Union's plan to resolve the (Palestinian-Israeli) crisis?"
He pointed out that Europe is currently witnessing the writing of "the history of double standards, unprincipledness and illegality."
In a related context, Erdogan stressed that "Israeli arrogance has no origin in any of the divine religions."
Addressing Netanyahu, he added, "What you are doing has nothing to do with what was stated in the Bible or what was stated in the Torah, and these two books or the Psalms do not accept it."
Erdogan confirmed that "Turkish Intelligence Chief Ibrahim Kalin is communicating with the Israeli and Palestinian sides and with Hamas as well."
He revealed that there is no communication between him and Netanyahu currently.
He explained that "it is not included in international diplomacy to completely sever relations (between countries)."
He stated that Foreign Minister Hakan Fidan, the head of the Intelligence Service, and other relevant ministers in Turkey will continue to use all the capabilities offered to them by diplomacy.
He stressed that Turkey's main goal is "establishing lasting peace in the Israeli-Palestinian issue."
He pointed out that they continue to put forward initiatives in this regard and their determination to do what is necessary to "stop the bloodshed."
Erdogan said, "Our goal is to reach a lasting and sustainable peace that will relieve our region and our country. We are launching our calls to secure this. We want to bring all parties together in a conference, for example."
Erdogan concluded by saying, "Countries are capable of ending the ongoing war in Gaza, but the people who will end this war are the consciences of the people."
On the other hand, Erdogan said that he received a letter of thanks a few days ago "from NATO Secretary General Jens Stoltenberg after he signed the protocol for Sweden's accession to the alliance and sent it to the Turkish Parliament."
Recently, the Turkish President signed the protocol on Sweden's accession to the alliance and it was referred to Parliament.
In mid-July, the Lithuanian capital, Vilnius, hosted a tripartite meeting that included President Erdogan, Swedish Prime Minister Ulf Hilmar Kristersson, and Stoltenberg.
Following the meeting, a tripartite statement confirmed that Ankara would refer Sweden's NATO accession protocols to Parliament for ratification and that Stockholm would support efforts to revive Turkey's accession process to the European Union.​​​​​​