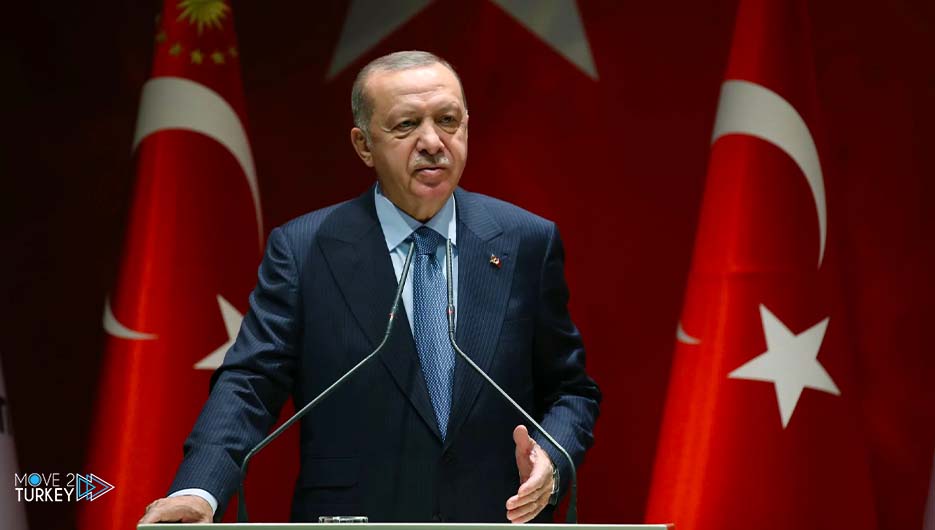 Turkish President Recep Tayyip Erdogan said, "Israel has completely lost its state mentality and is behaving like an organization," expressing his belief in the necessity of stopping it as soon as possible.
Erdogan's statement came in a speech he addressed to the Turkish people following a meeting of his government in the presidential complex in the capital, Ankara, on Tuesday evening.
Erdogan explained, "The Israeli administration has been committing crimes against humanity in front of the eyes of the whole world for 25 days, with unconditional support from Europe and America."
He added, "The Western world, led by European countries, once again failed the test of humanity in the Gaza Strip. The European Union was unable to come out and call for a ceasefire, let alone condemn Israel."
He continued: "Those who today stand by and watch the death of thousands of children in Gaza, their speech will have no value in any issue tomorrow."
He added: "To date, 8,500 Palestinians, most of them infants, children, and women, have been martyred as a result of direct Israeli attacks against civilians."
Erdogan confirmed that his country is continuing its discussions to "hold the perpetrators of war crimes accountable" in Gaza before the law.
He continued: "We see the necessity of establishing a new security mechanism with the cooperation of regional parties, and we are ready to bear responsibility if such a step is taken."
Regarding the targeting of the Turkish-Palestinian Friendship Hospital in Gaza, Erdogan said: "This important health institution that treats cancer patients is the latest victim of Israeli barbarism."
On Monday, the Ministry of Health in Gaza announced that the third and final floor of the Turkish-Palestinian Friendship Hospital was bombed by Israeli aircraft, a day after it bombed its surroundings, causing severe damage.
The hospital's general director, Sobhi Skaik, also announced on Tuesday that the Israeli army "re-targeted the only Turkish-Palestinian Friendship Hospital for cancer patients in the Gaza Strip for the second time and caused severe damage to it, according to the Palestinian Ministry of Health in Gaza."
Erdogan added: "Humanity and the world will not gain anything good from those claiming to defend human rights who do not raise their voices against Israeli massacres."
He pointed out that the residents of the Gaza Strip have been subjected to "great cruelty and brutality" since October 7th.
He continued: "After Al-Ahly Hospital, the (Turkish-Palestinian) Friendship Hospital, which we donated to our brothers in Gaza, was targeted by Israeli forces yesterday."
He added: "Knowing that in war, hospitals are not harmed, ambulances carrying patients are not targeted, and the health infrastructure is not destroyed in any country or city. This is the biggest difference between organizations and countries."
He added: "This attack alone (targeting hospitals) is sufficient to prove that Israel does not recognize any human rights, laws, or values."
Erdogan explained that Israel destroyed a large part of the buildings in Gaza, and that the residents of the Strip, who were cut off from electricity, water, fuel and food 3 weeks ago, "are being exterminated due to hunger on the one hand and violent bombardment on the other hand."
Erdogan pointed out that "countries that claim to be the cradle of democracy and human rights openly support this massacre."
He added: "In Turkey, we continue the humanitarian, just and honorable position that we have taken from day one, and we confirm at every opportunity that we do not accept measures against civilians."
He continued: "We say that security will not be achieved by shedding more blood, killing more children, striking more hospitals, schools, mosques, churches, and popular markets, and raining more bombs on Gaza."
Erdogan stressed that "stopping the massacre, which has entered its 25th day, is the highest priority," adding: "Therefore, a ceasefire must first be reached, and then the path leading to lasting peace must be opened."
Erdogan expressed his belief that an international Palestinian-Israeli peace conference held with the participation of all concerned parties is "the best platform and means to achieve lasting peace."
He added: "We believe that it will be an appropriate platform. We believe that it is necessary to establish a new security mechanism in cooperation with actors in the region."
He added: "If such a step is taken, we in Turkey are ready to bear responsibility. Our goal is to pull our region out of this spiral into which it has been drawn."
Regarding the humanitarian aid provided to Gaza, Erdogan said: "In coordination with the Egyptian authorities, we have shipped 10 planes full of relief materials to Al-Arish Airport so far."
He added: "The total amount of aid sent by our country, some of which reached our brothers in Gaza, amounted to 213 tons. As more humanitarian aid trucks are allowed to enter Gaza through the Rafah Gate, we will increase our aid."
Erdogan continued: "We also sent 54 people, including medical personnel, employees of AFAD (Turkish Disaster and Emergency Management), the Red Crescent, and journalists to the region."
The Turkish President pointed out the importance of the international community putting pressure on the Israeli administration to keep the Rafah border crossing between Gaza and Egypt open.
He touched on the economic situation in his country, saying: "We will continue to strengthen the strength of our economy, and work to overcome all the difficulties facing us."