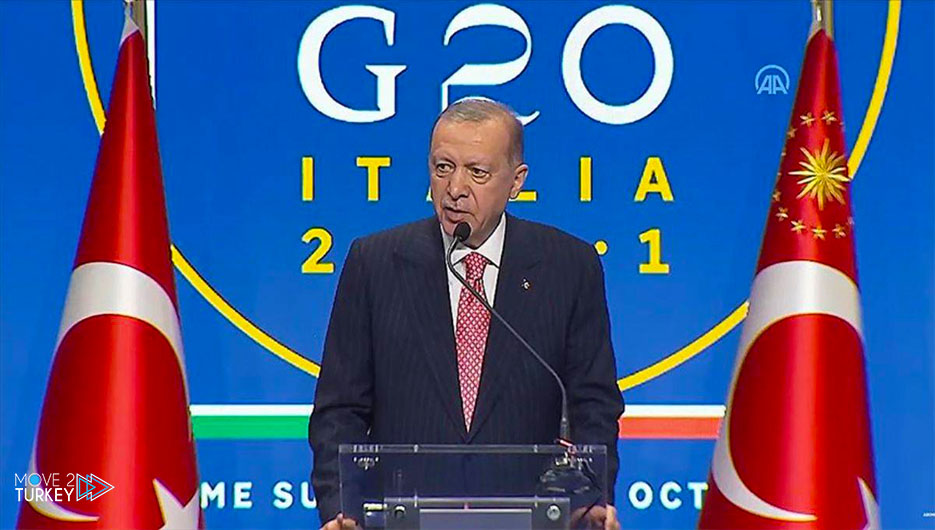 President Recep Tayyip Erdogan made a press statement following the G20 Leaders Summit held in Rome, Italy.
He said, "As member states, we have had many meetings, we have actively participated in the meetings held at the ministerial level, and we have completed the G20 summit.
Although the global economy began to recover in 2021, our economies still face serious challenges.
The institutions that control the global financial system should not be instruments of political manipulation without any reasonable economic justification.
He added: "It is unacceptable to maintain the patriotism of vaccines in different ways and to discriminate against vaccines recognized by the World Health Organization in the international arena.
Together with our citizens, we will offer our local vaccine to serve all of humanity. Access to vaccines and treatments is a right, not a privilege.
This unfair thing should not go on any longer. It is very wrong to use a vaccine as a tool for blackmail or dictate politics.
Developed countries, in particular, avoid financial responsibility for climate change, global problems can only be solved by joint efforts, and the pandemic has negatively affected the food crisis on a global scale.
"The amount that the most polluting countries spend on combating irregular migration is twice what they spend on combating climate change.
This is unfortunate, there is no plausible explanation for throwing away a trillion dollars of food every year."
"In our meeting with US President Joe Biden, we conveyed our regrets to the PKK / PYD terrorist organizations in Syria that they received from the United States."
As we said that these issues are steps that would harm our solidarity, I believe that the next process will not continue in this way, as we discussed the issue of Afghanistan and evaluated the latest situation.
What steps we will take, time will tell, we emphasized the need for the Treasury and Finance ministries to come together more closely in economic and trade relations.
The issue of modernizing our existing F-16s or giving new F-16s came to the fore.
And our defense ministers are watching the process, and I've seen Mr. Biden's positive approach to this issue.
There is no major immigration wave from Afghanistan at the moment, we are taking measures, and at this point, we do not intend to open our doors to mass immigration.