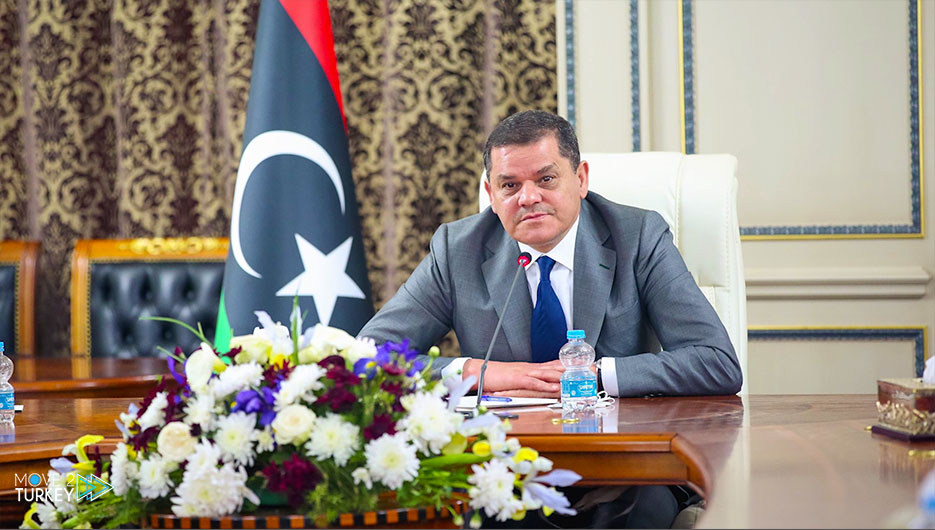 Libyan Prime Minister Abdul Hamid Dabaiba affirmed that the maritime agreement with Turkey "serves the Libyans" and that his country will not neglect it, indicating that his government "disagrees with Greece" regarding its evaluation.
This came in excerpts of an interview conducted by the "Without Borders" program with Dabaiba, which will be broadcast in full this evening, Wednesday.
Dabaiba said, "We disagree with Greece in evaluating the Libyan-Turkish maritime agreement that serves the Libyans, and we will not neglect it."
On 27 November 2019, Turkey and Libya signed two memoranda of understanding regarding security and military cooperation.
In addition to specifying areas of maritime jurisdiction with the aim of protecting the rights of the two countries stemming from international law.
The Libyan Prime Minister added: "Through our discussions with several countries, there are good signs to get the mercenaries out of Libya."
The militia of retired Major General Khalifa Haftar uses mercenaries from several sides, most notably the Russian "Wagner" company, in its military operations.
It launched an unsuccessful attack on the capital, Tripoli, in April 2019.
Dabaiba explained that his government "has united 80 percent of the state's institutions, except for the military," noting that "the 5 + 5 committee is the nucleus of its unification."
The Libyan Joint Military Committee (5 + 5) includes 5 members from the legitimate Libyan government, and 5 from Haftar's militia.
Dabaiba confirmed that his government does not coordinate with Haftar, "and we coordinated in the (eastern) city of Benghazi with the mayor of the municipality and the police services."
He attributed the ban on holding the government meeting in Benghazi to the existence of logistical matters, and pledged that the government would hold a meeting soon in the city controlled by Haftar's militia.
On April 25, Dabaiba canceled his visit to Benghazi, after Haftar's militia prevented the landing of a plane carrying government protection and protocol personnel.
Dabaiba Halal also stressed that his government "wants to heal the rift and national reconciliation, and hopes that the elections will be held on time by the end of the year."
For several years, Libya has suffered from an armed conflict. With the support of Arab and Western countries, mercenaries and foreign fighters, Haftar's militia fought the former internationally recognized Government of National Accord.
The Libyans hope that a political breakthrough between the parties will lead to an end to the conflict in the oil country.
On March 16, a new government of national unity and a presidential council took over the authority to lead the country to parliamentary and presidential elections on December 24.