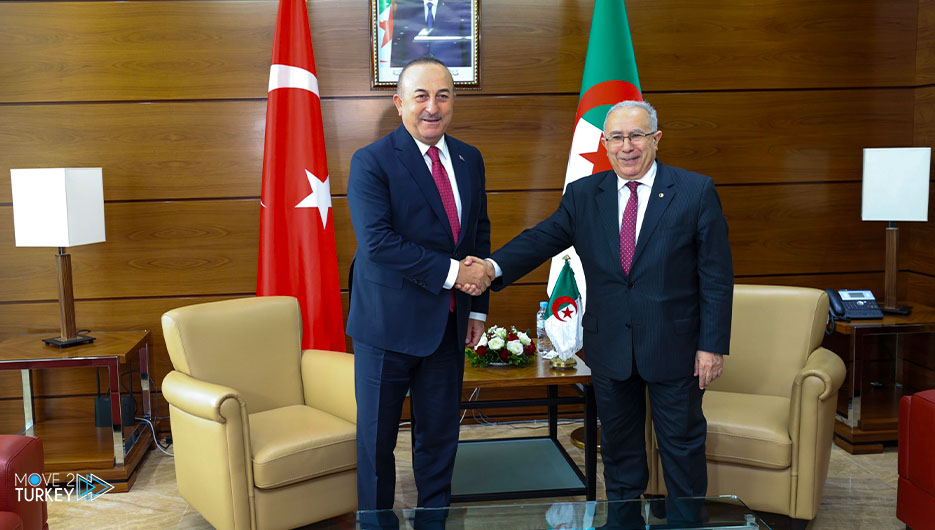 Turkish Foreign Minister Mevlüt Çavuşoğlu announced that Turkish investments in Algeria have exceeded $5 billion and that the target value is $10 billion.
This came during a joint press conference he held on Saturday evening with his Algerian counterpart, Ramtane Lamamra, after the first meeting of the "Joint Turkish-Algerian Planning Group."
Ministers Çavuşoğlu and Lamamra presided over the meeting held in Algiers, concerned with following up on the results of the high-level Turkish-Algerian Cooperation Council.
Çavuşoğlu said that the meeting dealt with the decisions taken at the high-level Turkish-Algerian Cooperation Council meeting held last May in the capital, Ankara.
He explained that the meeting discussed opportunities for cooperation in the fields of trade, agriculture, fishing, industry, energy, maritime and military cooperation, defense industries, culture and education.
He revealed that the value of bilateral trade between Turkey and Algeria increased by 30 percent this year compared to last year, and is expected to exceed $5 billion.
He stressed Turkey's determination to take all necessary steps to reach the target value of $10 billion in bilateral trade.
He pointed out that the opening of a branch of the Turkish Agricultural Bank in Algeria will contribute to achieving this goal.
He stated that Algeria offers very important opportunities in the field of agriculture, and that cooperation between the two countries will benefit the whole region in light of the increasing importance of food security.
He pointed out that the number of Turkish companies operating in Algeria exceeded 1,400, and that the value of investments also exceeded $5 billion.
He indicated that the two countries are working together to raise the level of Turkish investments in Algeria to $10 billion, not just trade.
Çavuşoğlu touched on the energy crises in the world, stressing that cooperation between the two countries has different dimensions in this field, such as natural gas trade, mining and joint research activities.
He said that he discussed with Lamamra issues of transportation, maritime shipping, joint production of ships, and the necessary steps to enhance cooperation in the military field and defense industries.
He believed that raising the number of weekly flights between Turkey and Algeria to 55 at the beginning of this December would increase communication between their peoples.
Çavuşoğlu also announced the two countries' intention to open two cultural centers in Algeria and Istanbul.
He expressed his thanks to the Algerian authorities for their strong support for Turkey in the fight against the "Fülen" terrorist organization.
He pointed to the similar positions of the two countries on the issue of Palestine, stressing Turkey's support for the Algerian initiatives regarding reconciliation between the Palestinian parties.
He pointed out that there is a consensus between Turkey and Algeria regarding the establishment of permanent peace and stability in Libya.