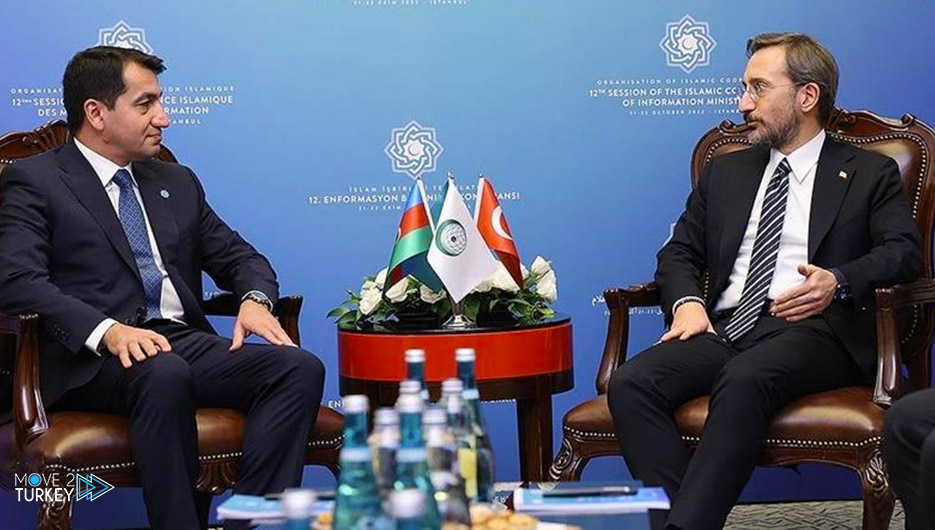 The Head of the Communication Department in the Turkish Presidency, Fahrettin Altun, held a series of bilateral meetings on the sidelines of the 12th Meeting of the Information Ministers of the Organization of Islamic Cooperation, held in Istanbul.
Altun met the Secretary-General of the Organization of Islamic Cooperation Hussein Ibrahim Taha, the Saudi Minister of Commerce and the Acting Information Minister Majid Al-Qasabi, the Somali Minister of Information, Culture and Tourism Daoud Uwais Jameh and the advisor to the Azerbaijani President Hikmat Hajiyev.
In his meeting with Taha, Altoun stressed the importance of the OIC Information Ministers Conference in achieving cooperation opportunities, expressing his thanks to the Secretary-General for sponsoring the conference.
On the other hand, Taha thanked Turkey for hosting the conference, stressing the need for cooperation to combat misinformation and Islamophobia, stressing at the same time the importance of considering Islamophobia a crime punishable by law.
Altun also met the Minister of Information of the Republic of Guinea-Bissau, Fernando Mendocha, after the governments of the two countries signed a cooperation protocol in the field of media and communication.
On Friday, Altun met Pakistani Minister of Information and Publication Maryam Aurangzeb and Minister of Culture and Islamic Guidance Muhammad Mahdi Ismaili.
On Saturday, Turkey assumed the presidency of the 12th session of the Organization of Islamic Cooperation's Information Ministers Conference from Saudi Arabia during the session held in Istanbul for the second and final day.
The twelfth session of the conference discussed combating disinformation and the phenomenon of "Islamophobia" (fear of Islam) in the post-truth era.