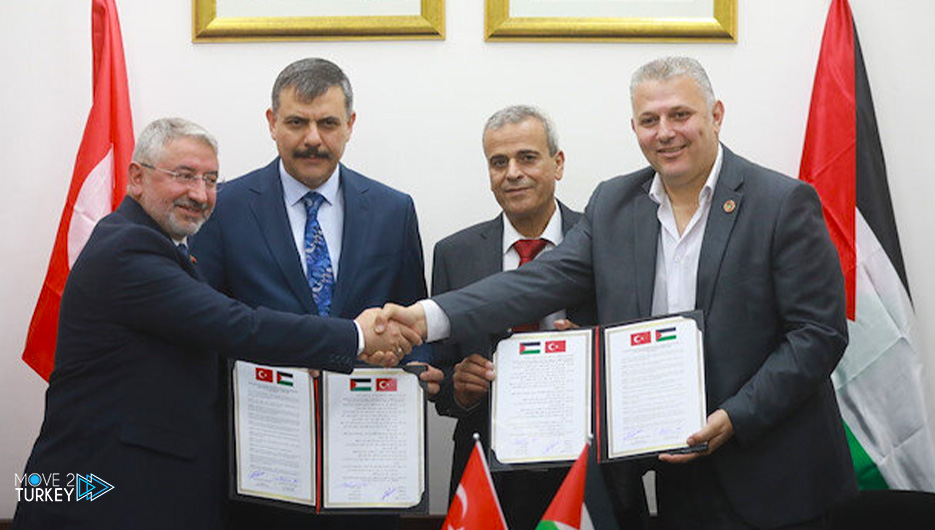 On Tuesday, the Palestinian municipalities of Qalqilya and Gorum signed a twinning agreement to enhance joint cooperation between the two cities.
This came during the visit of a Turkish delegation to Qalqilya headed by Governor (Wali) Çorum Mustafa Ceftci, its mayor Khalil Ibrahim Ashkin and a number of heads of institutions and municipality members.
The agreement was signed by the Mayor of Qalqilya (Northwest Bank) Munther Nazzal and the Mayor of Gorum (Central Turkey) Khalil Ibrahim Ashkin.
On the sidelines of the signing, Qalqilya Governor Rafea Rajbeh said that "the agreement will strengthen the ties between the two municipalities in all fields and improve the lives of Palestinians who live under the oppression of the Israeli occupation."
He welcomed the Turkish delegation and pointed out the existence of "old friendship relations linking the Palestinian and Turkish peoples."
Rajba praised the Turkish role in "supporting the Palestinian cause at all levels, especially the political one, to confront the Israeli occupation."
He gave the Turkish delegation an overview of Qalqilya's suffering from Israeli policies, especially the separation wall that surrounds the city, in addition to Israeli settlements.
He pointed out that Turkey is the destination of the people of Qalqilya Governorate and Palestine in general for tourism and trade.
In turn, Ceftci said, "The agreement is a means of goodness and love between the Palestinian and Turkish peoples, and it strengthens that ancient and historical relationship between them."
Ceftci stressed that Turkey "supports the establishment of a Palestinian state with Jerusalem as its capital so that the Palestinian people can live in security, peace and stability."
He stressed that "the visit of the Turkish delegation to Palestine is the beginning of more bilateral relations between the two countries."
For his part, Ashkin said that his municipality will harness its capabilities to support the Qalqilya municipality financially and morally.
He continued, "We tell you (the Palestinians) that we will not abandon you, as Turkish President Recep Tayyip Erdogan said, even if we remain alone in the battle."
He expressed his hope that the Palestinian issue would be resolved soon.
And on Monday, the Turkish delegation began a visit to the Palestinian territories, which will continue until Thursday, during which it will meet the institutions of Qalqilya Governorate, and visit both the city of Hebron in the south of the West Bank and the Al-Aqsa Mosque in occupied East Jerusalem.