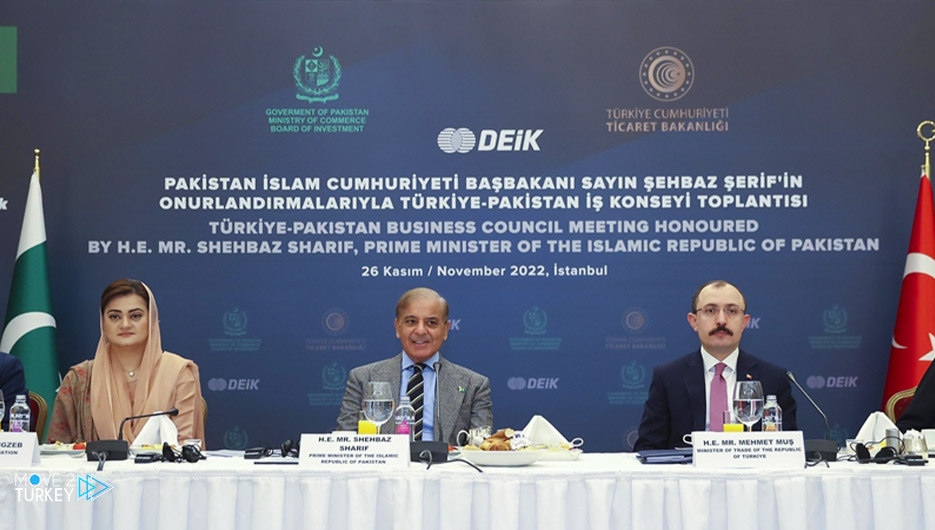 Pakistani Prime Minister Shahbaz Sharif said on Saturday that his country had signed an agreement with Turkey to raise the volume of trade exchange from 1.5 billion to 5 billion dollars within 3 years.
This came in a speech delivered by Sharif at the Turkish-Pakistani Business Council meeting in Istanbul, Turkey, in which he expressed Islamabad's desire to cooperate with Ankara and improve trade relations between the two countries, according to a statement by the Turkish Foreign Economic Relations Council, the organizer of the meeting.
Sharif added, "We signed (with the Turkish side) an agreement to raise the volume of trade exchange of $1.5 billion to $5 billion within 3 years."
He pointed out that Pakistan is taking decisive measures in the field of renewable energy, noting that his country spent $27 billion last year on fuel products such as oil.
And he added, "We want to change this reality, and we have started investing in solar energy to obtain 10,000 megawatts. I would like to organize a special conference for our Turkish brothers to present our plans to them in this field."
He referred to the establishment of a partnership between Pakistan and Turkey in the field of defense industries, stressing that his country wants to open the doors wide for Turkish investors.
Shahbaz Sharif arrived in Turkey on Friday for a two-day visit at the invitation of President Recep Tayyip Erdogan.
On Friday, alongside President Erdogan, Shabaz participated in the ceremony of launching the third "PNS Khyber" ship into the sea in Istanbul, within the framework of the "Milgam" project, which requires Turkey to build 4 warships for Pakistan.