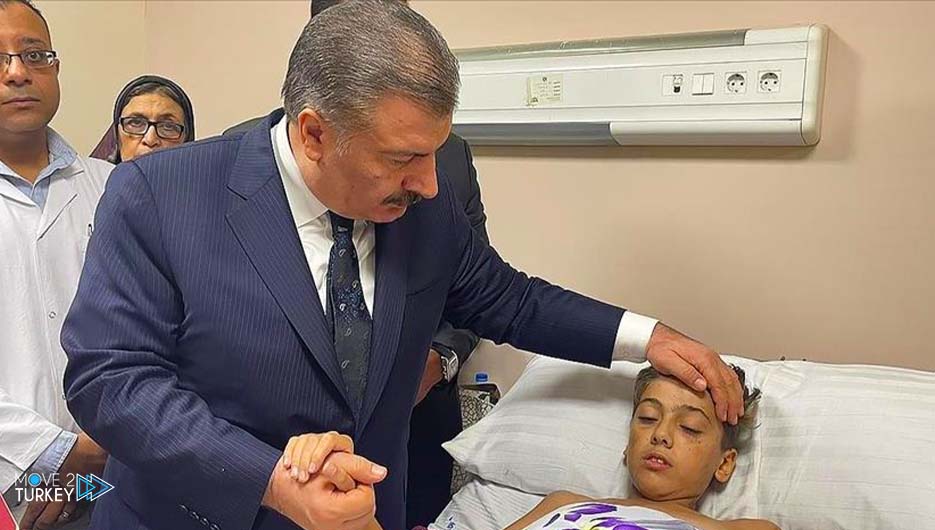 Turkish Health Minister Fahrettin Koca on Wednesday visited the wounded who were brought from the Gaza Strip at the Nasser Institute for Research and Treatment Hospital in the Egyptian capital, Cairo.
On Wednesday morning, Koca arrived in the Egyptian capital, Cairo, to discuss coordinating medical aid sent to Gaza and transporting cancer patients to Turkey.
Within the framework of the visit, the Turkish Minister of Health met with his Egyptian counterpart, Khaled Abdel Ghaffar.
After the meeting, the two ministers went to the Nasser Institute Hospital for Research and Treatment to visit the wounded coming from Gaza.
The two ministers exchanged conversations with the sick and wounded, and expressed their wishes for recovery.
Koca received a briefing on the health condition of the wounded and gave toys to the children.
The Turkish minister suggested transporting a woman with an injury to her face for treatment in Turkey, and his Egyptian counterpart confirmed that he would study the matter.
At the end of the tour, the wounded in the hospital expressed their thanks to the Turkish Minister of Health.