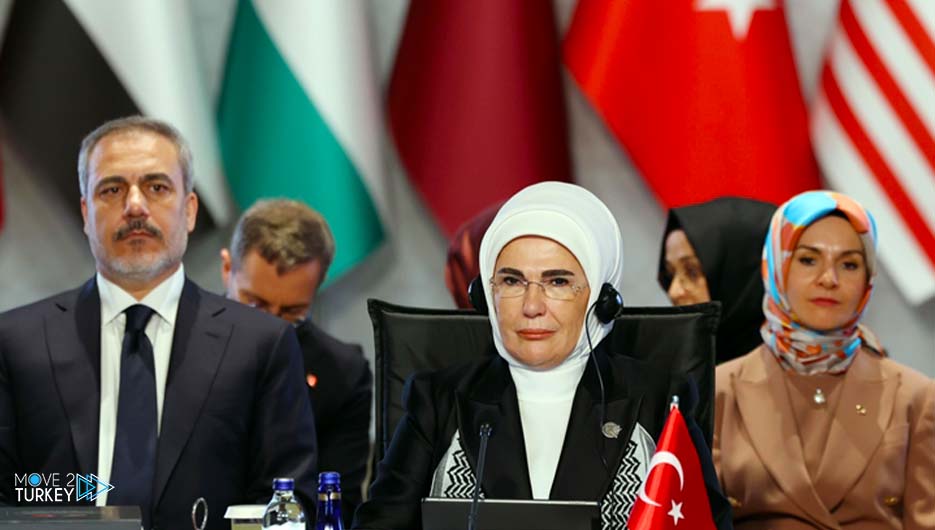 Emine Erdogan, wife of the Turkish President, said that "Gaza today has become a city of unknown children," referring to the term "unknown soldier."
This came in a speech on Wednesday during a summit in Istanbul of spouses of heads of state entitled "One Heart for Palestine," following the devastating Israeli war on the Gaza Strip.
Amina Erdogan added that she had previously heard the term "unknown soldier," but she did not imagine hearing news about children whose bodies had "unknown child" written in reference to what Gaza is witnessing in this regard.
She affirmed that, as a mother, a woman, and a human being, she refuses to "pass on to future generations such a dirty legacy without holding its perpetrators accountable."
Erdogan called on "the Israeli officials involved in the attacks on Gaza to be tried in the International Criminal Court for the war crimes they committed."
The wife of the Turkish president called on the leaders' wives to "raise the voices of the voiceless civilians who are being killed in Gaza and subjected to mass slaughter."
She continued, "Each of us has a loud voice, and this voice is louder when we meet and gather."
The First Lady of Turkey also called on the leaders' wives to unite their words "in order to demand a ceasefire in Gaza."
She added, "Come, let us transform this forum from mere words into action, and let us make it an initiative for peace in Palestine."
The summit was attended by the wives of leaders and special representatives from 14 countries, while the wives of the leaders of Azerbaijan, Brazil and Venezuela participated by sending video messages to the summit.
After the summit, Emine Erdogan and the wives of the leaders participating in the summit took a group photo.
Confrontations continue in the Gaza Strip as a result of a devastating war launched by the Israeli army for the 40th day against Gaza, which left 11,320 Palestinians dead, including 4,650 children and 3,145 women, in addition to 29,200 injured, 70 percent of whom were children and women, according to official Palestinian sources on Tuesday evening.