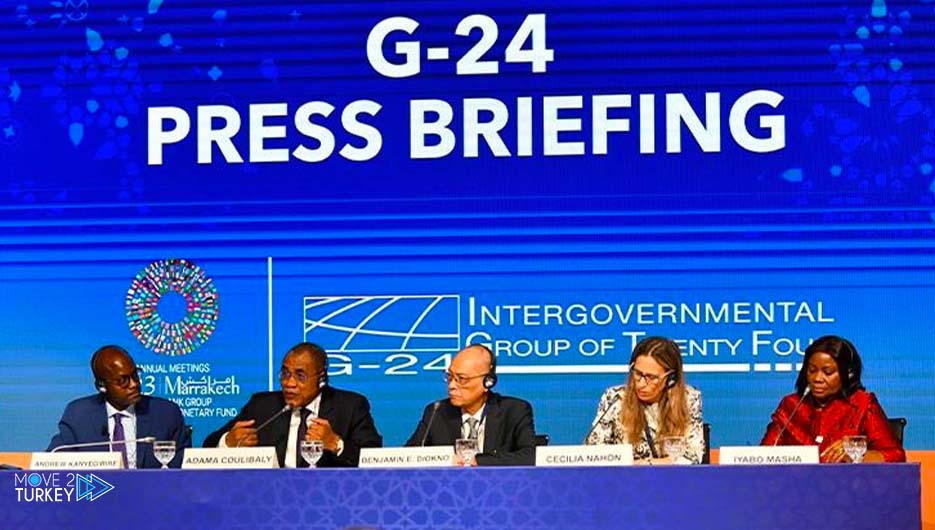 The head of the Group of 24 countries, Adama Kulibari, called on Tuesday for canceling the debts of poor countries, especially African ones.
This came in a speech delivered by Kulibari, who is also the Minister of Finance of Côte d'Ivoire, during a press conference held by the Group of 24 concerned with international monetary affairs and development during the meetings of the International Monetary Fund in Morocco.
He said that poor countries suffer from a problem in financing their economies, especially African ones. "If we do not find sufficient funding, how will Africa achieve progress?"
He added: "The group needs easy conditions to access international financing, especially since many countries find it difficult to obtain this financing."
Founded in 1971, the group includes 29 countries, not 24 as it is called, with new members joining.
The members are: Algeria, Côte d'Ivoire, Democratic Republic of the Congo, Egypt, Ethiopia, Gabon, Ghana, Kenya, Morocco, Nigeria, South Africa, Argentina, Brazil, Colombia, Ecuador, Guatemala, Haiti, Mexico.
It also includes Peru, Trinidad and Tobago, Venezuela, China, India, Iran, Lebanon, Pakistan, Philippines, Sri Lanka, Syria; It also includes 4 countries and 11 other international and international organizations as observers.
The value of the external debt of poor and middle-income countries jumped to 8 trillion and 700 billion dollars, which is its highest level ever, according to World Bank estimates.
This year, 91 of the poorest countries in the world will be forced to use 16 percent of their revenues to pay off part of their debts due to the sharp rise in global loan costs, according to the bank.
The annual fall meetings of the World Bank and the International Monetary Fund this year began on Monday, from October 9 to 15, in the Moroccan city of Marrakesh.