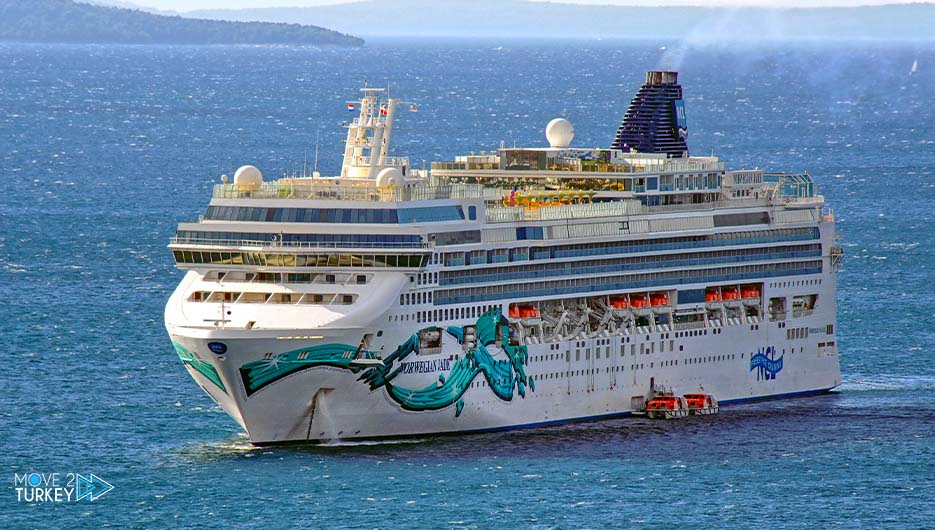 A giant cruise ship arrived in the Marmaris district of the Turkish state of Muğla on Wednesday after its voyage to the port of Haifa was canceled due to the ongoing battles between the Israeli-Palestinian sides.
The "Norwegian Jade" ship, which visited the Bodrum region of Muğla State as part of its tour, later changed its course from Israel to Marmaris, which was not part of its tour plan.
The 294-meter-long ship carries 2,600 passengers, most of whom are Americans and Canadians, in addition to a crew of 1,222 individuals.
Tourists wandered through the closed Marmaris market, visited historical places, and ate in its restaurants.
The ship is scheduled to head to the port of Limassol on the island of Cyprus at night.
At dawn on Saturday, Hamas and other Palestinian factions in Gaza launched Operation "Al-Aqsa Flood" in response to "the continuing attacks by Israeli forces and settlers against the Palestinian people, their property and sanctities, especially Al-Aqsa Mosque in occupied East Jerusalem."
On the other hand, the Israeli army launched Operation "Iron Swords" and continues to launch intensive raids for the fifth day in a row on many areas in the Gaza Strip, which is inhabited by more than two million Palestinians who suffer from deteriorating living conditions as a result of an ongoing Israeli siege since 2006.