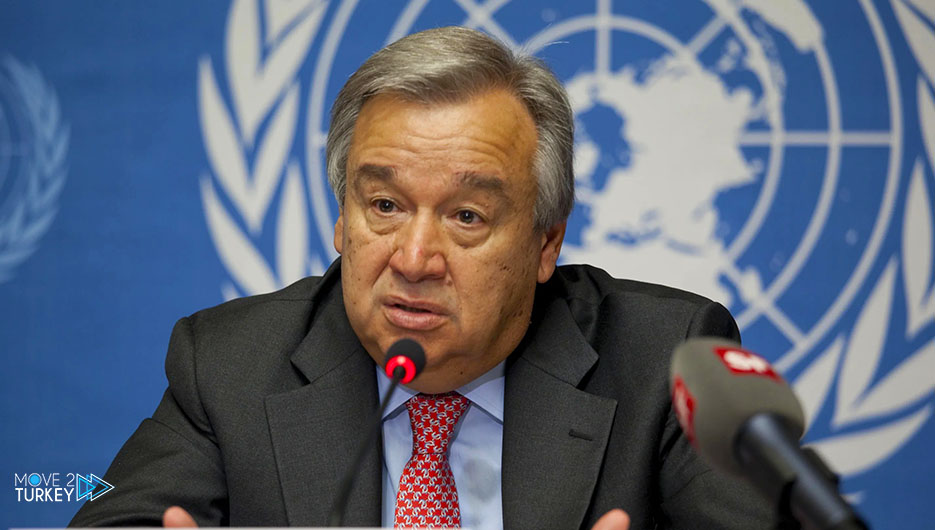 On Friday, United Nations Secretary-General Antonio Guterres warned of 5 major challenges facing the world in the current year 2022, describing them as a "five-alarm global conflagration."
This came at a special meeting of the members of the General Assembly (193 countries) currently being held at the headquarters of the International Organization in New York, to listen to the priorities of the Secretary-General during the year 2022.
Guterres said that the world "is facing a cauldron of political turmoil and fierce conflicts, and is facing a global conflagration with five warnings, which requires the full mobilization of all countries."
The five warnings Guterres identified were "the Corona pandemic, global finance, climate action, lawlessness in cyberspace, and peace and security."
In his speech, the Secretary-General of the United Nations touched on the situation in Afghanistan, pledging to provide a lifeline to help the Afghan people.
He also stressed the need to ensure the provision of humanitarian assistance to the needy in Ethiopia, and to end the political crisis in Haiti.
And "supporting talks to revive the Joint Comprehensive Plan of Action between Iran and the West" is an indication of attempts to revive the nuclear agreement.
On the Israeli-Palestinian conflict, Guterres said he was working for "the parties to refrain from unilateral steps."
Including settlement expansion and violence, helping to revive the peace process and paving the way for ending the occupation and achieving a two-state solution (Palestinian and Israeli).
Turning to the crisis in Libya, he pointed out that "the United Nations is working to promote dialogue and support the presidential and parliamentary elections as soon as possible, and to push for the coordinated withdrawal of foreign fighters."
Regarding the situation in Sudan, Guterres said: "We are helping to realize the democratic aspirations of the people and supporting an inclusive political process."
On the Syrian crisis, he said: "We will move forward with the full implementation of Security Council Resolution 2254 issued in 2015 (calling for an end to targeting civilians)."
He stressed the importance of "reconvening a credible constitutional committee led and owned by Syria."
In Yemen, Guterres made it clear that the United Nations was "working towards a permanent ceasefire.
opening access to the country and resuming an inclusive political process to end the catastrophic seven-year conflict.
In Mali, he pointed out, "We are working with all stakeholders to restore constitutional order, and to set the election date with an acceptable timetable."
As for Myanmar, he stressed that the United Nations is working to restore democracy and provide humanitarian aid.
At the conclusion of his speech, he stressed that "the world needs the United Nations to be strong and effective to face such challenges.
Our response to the five emergencies will determine the course of people and the planet for decades to come."