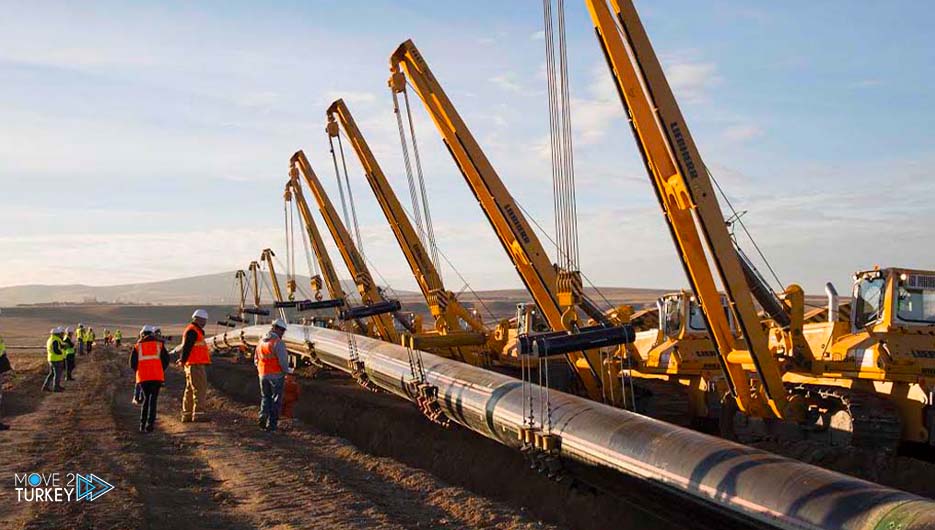 Minister of Energy and Natural Resources Fatih Donmez said that Turkey supports the increase in the production capacity of the Trans- Natural Gas Pipeline "TANAP".
This came in a statement on Saturday after his participation in the eighth meeting of the Advisory Council of the "Southern Gas Corridor" project, which was held in the Azerbaijani capital Baku.
The "Southern Gas Corridor" project, which will transport Azerbaijani gas extracted from the Caspian Sea to Europe, aims to achieve security and diversification of energy supplies to the European Union.
Donmez noted that TANAP, which is part of the "Southern Gas Corridor", is one of the important projects that have been taken and implemented very quickly.
He stressed that TANAP is one of the major projects that contribute to securing supplies not only to Turkey but also to Europe.
He explained that TANAP transports 16 billion cubic meters of natural gas annually, 6 billion of which are to meet Turkey's needs, and 10 billion go to Europe.
He added, "During the design of the pipeline, it was planned to raise the annual capacity to 31 billion cubic meters in accordance with future supply and demand.
Perhaps together we will see that the pipeline will reach the capacity it was designed for without waiting too long, we support the increase in capacity."
He indicated that TANAP provides the opportunity for other countries in the region to transfer their gas to Europe as well.
In 2018, Turkish President Recep Tayyip Erdogan and Azerbaijani President Ilham Aliyev inaugurated the TANAP pipeline.
With the participation of the presidents of Serbia, Ukraine and Turkish Northern Cyprus, as well as ministers and senior officials of Turkey and Azerbaijan.
The cost of the "TANAP" project is approximately $7 billion, and its pipelines cross the Turkish territory, with a length of 1,850 km, starting from the state of Ardahan (east) and ending in the Ipsala area of ​​the state of Edirne (west).
According to the project plan, the volume of Azerbaijani gas transported through the TANAP pipeline will be increased to 23 billion cubic meters by 2023, and to 31 billion cubic meters in 2026.
The pipeline will transport Azerbaijani natural gas to Europe through Turkey, after allocating part of it to meet the needs of the latter.
The remaining amount will be pumped to Europe via the Trans-Adriatic Pipeline "TAP.