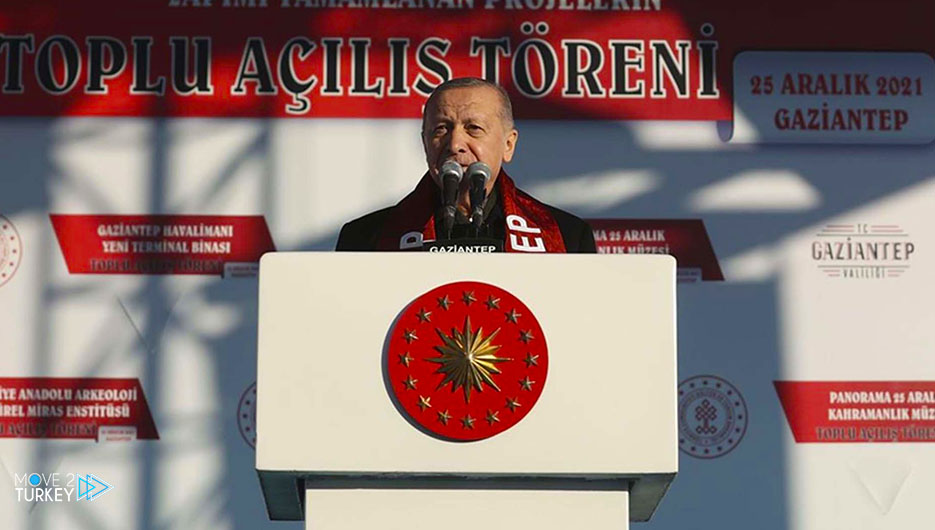 President Recep Tayyip Erdogan has said that his government aims to bring Turkey into the ranks of the top 10 economies, and has a stronger say in the global system.
This came during his participation, via direct video call, on Wednesday, in the opening ceremony of a tunnel on the road between Erzurum and Artvin provinces.
Erdogan stated that the new tunnel is one of the most important elements of the project to make the transport movement between the regions of southern and eastern Anatolia, and the Black Sea region continue without interruption.
He pointed out that the project's tunnel length is 2,272 meters, and with the roads leading to it, its total length reaches 3.4 kilometers.
He explained that the project will ensure a rapid, safe and uninterrupted continuation of the movement of people and products between Erzurum and Artvin.
"We have increased the length of the dual roads in Turkey from 6,100 km to 28,473 km," Erdogan added.
He pointed to the increase in the length of highways from 1,714 km to 3,532 km in the country, and tunnels from 50 km to 639 km.
He stressed that Turkey has become at the forefront of the scene as a country with the most comprehensive and modern development infrastructure among developed and developing countries.
And he added, "Turkey is progressing resolutely towards achieving its goals through this infrastructure at a time when the system of administration and the global economy is shaken to its roots, and the world is witnessing the birth of a new order."
And he added, "Our goal is to make our country one of the top 10 economies in the world, and to have a more influential say in the global governance system."
He stated that this is the most important motivation behind his government's efforts to rapidly develop the country in medium and high technology based fields, especially in defense industries.