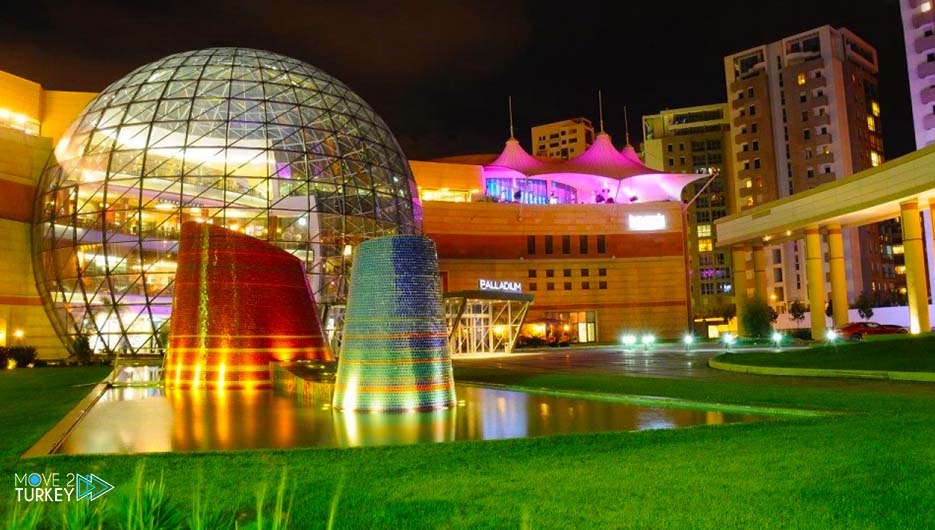 Istanbul is one of the most popular cities in Turkey, it is full of tourists at any time of the year, most of the tourists who travel to Istanbul include shopping on their itineraries as an essential thing.
One of the famous shopping centers in the Asian part of Istanbul is called "Istanbul Palladium Mall".
Follow us to get to know this distinctive shopping center.
Everyone knows Istanbul Palladium Shopping Center from its distinctive and modern exterior design, where there is a large glass ball in front of the entrance with a very amazing and attractive appearance.
This shopping center is located in the Asian part of Istanbul and has now become one of the most important symbols of Istanbul.
Those who have traveled to Istanbul once know the Palladium Shopping Center, and know that it is not only a shopping center, but also a cinema, theater, food court and cafe.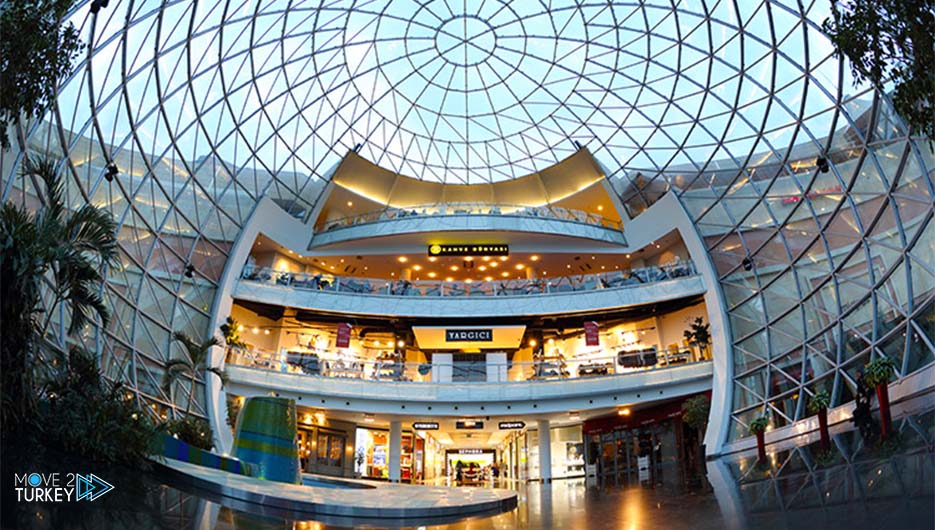 About the Palladium Mall in Istanbul
The five-storey Palladium Shopping Center in Istanbul was opened in 2008, and during the few years that have passed since its inception, it has managed to attract the attention of many tourists who are touring Istanbul.
The area of ​​land on which this wonderful shopping center is located is 40,000 square meters.
And the budget allocated for the construction of this huge center was about $ 230 million.
When you want to enter this shopping center, you will pass through a nice green space.
And the placement of a glass ball in the heart of this meadow doubled its beauty and distinction, as the combination of green meadow and colored lights led to an amazing effect that dazzles the eyes of every viewer.
This modern architectural masterpiece contains 190 stores selling clothes, multiple home appliances, toys, perfumes, cologne, bags, shoes, makeup and more..
Making it one of the largest shopping centers in Istanbul, and at the same time it can be one of the most luxurious experiences for you in the city.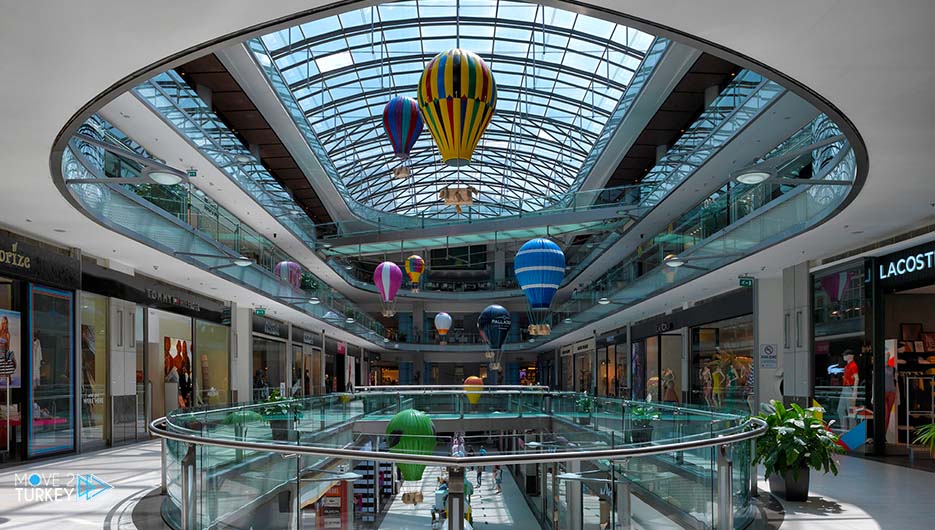 Brands located in the Palladium Istanbul shopping center
In Istanbul Palladium Mall there are all kinds of Turkish and international branded clothes and goods for different ages, for example:
Various sportswear from the brands of Adidas and Nike.
Cosmetics from famous brands such as Mac and Yves Rocher.
Men's and women's clothing from brands: US Polo, GAP, Mango, Lacoste, Kotton, Bershka, Tommy Hilfiger, Benetton.
Men's and women's shoes of the Massimo Dutti brand.
LC Waikiki brand baby clothes and shoes.
In addition to the above, other famous brands such as: Gusss, Michael Kroos, Pierre Cardin, Zara and Tommy Hilfiger are also available in this place, which tourists on the Istanbul tour can buy from.
The Palladium Mall is one of the most luxurious and diverse shopping centers in Istanbul.
And it is more than just a shopping center as it contains a large food court that includes more than 20 restaurants, each of which has a unique and different design and atmosphere, and offers a variety of menus.
Of course, this multiplicity of restaurants responds to all different tastes of different international dishes.
These restaurants are located in different parts of the mall, for example one of the large Palladium Center restaurants is located on the ground floor, which features a charming open space.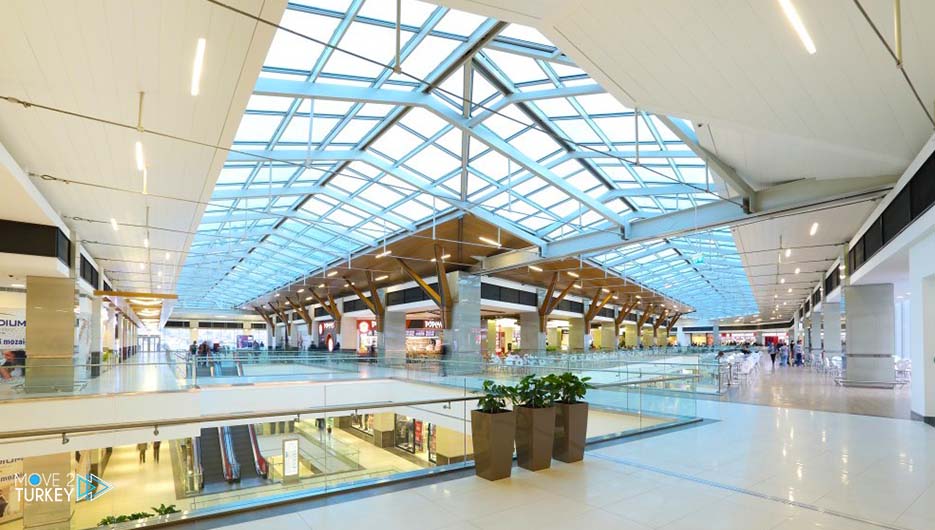 The private car park in the Palladium Mall entertainment complex is designed in a distinctive way, as the car park consists of 5 basement floors.
Thanks to the good security, drivers can park their cars easily and go shopping and sightseeing, and this car park can accommodate 2,500 cars.
Since the Istanbul Palladium shopping center is located in the Asian part of Istanbul, the number of tourists is less than the European region and the shopping centers in the European section areas such as Zorlu Center and Cevahir Mall.
As a result, many goods are available in different sizes and prices at Palladium stores, especially during the shopping season in Istanbul.
The interior of Istanbul Palladium Shopping Center is decorated according to the big celebrations in the country, such as Christmas, Eid al-Fitr and many more, and it has a very attractive view.
Like many malls in Turkey and Istanbul, Palladium Mall is not only for shopping.
In addition to concert halls and theaters, the Palladium cinema is equipped with the latest technology in the world, and is the resting place for many movie lovers, this cinema is located on the third floor of the mall.
The cinema in the Palladium Shopping Center in Istanbul contains:
An advanced 2D and 3D movie playback system
Giant silver curtain
Professional audio system
You have a good view from anywhere in the hall
Comfortable chairs
To see movie names and buy tickets, visit cinemaximum.com at the Palladium Cinemas
Where is the Palladium Istanbul shopping center located?
Palladium Mall is located in the Asian part of Istanbul, where a variety of Turkish and international brands operate in it.
The main reason for the popularity of Palladium Istanbul Business Center is its special and distinctive architecture, which is made in the form of a round glass ball.
So if you go to the Asian region of Istanbul, make sure to visit the Palladium Shopping Center, which is located in the Ataşehir district.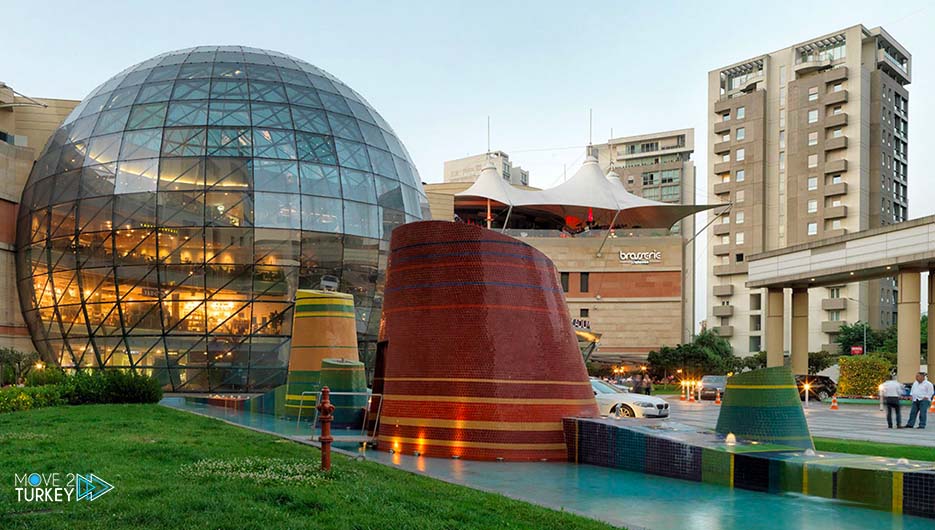 How to go to Palladium Istanbul shopping center?
Suppose we are in Taksim Square and we want to go to the Palladium in a taxi, it would take about half an hour.
But if you have enough time it is not bad to use the bus and see the beautiful Istanbul road, though it would take you about an hour by bus (but trust us, you'll fall in love with the views on the road).
But which way do you go?
There is a bus stop at Taksim Square at the beginning of Mete Street where you have to take the Bostanci-Taksim Bus.
After 10 stops, you have to get off in Uzungar.
To continue, you have to go by metro bus, as Ozone Chair metro station is a 3-minute walk away.
The metro bus takes from the Uskudar-Ferhat Pasa line and gets off at Halk Street Station.
The address of the Palladium Istanbul shopping center
Barbaros Mahallesi Halk Caddesi No: 6, 34750, Istanbul, Turkey
Opening hours of the Istanbul Palladium Shopping Center
Palladium Istanbul Shopping Center welcomes tourists who tour Turkey from 10 am to 10 pm, and during this time all stores and restaurants are ready for service.
Website: www.palladium.com.tr
Phone: + 902166631500